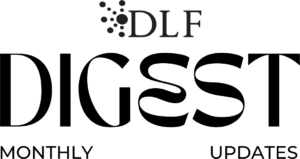 A monthly round-up of news, upcoming working group meetings and events, and CLIR program updates from the Digital Library Federation.
---
This month's news:
Registration for the 2023 DLF Forum, Learn@DLF, and NDSA's Digital Preservation 2023: Communities of Time and Place closes Friday, November 3, at 11:59pm ET. This year's events take place from November 12-16 in St. Louis, Missouri. Head to the Forum website to register.
Registration is still open to attend the 2023 CLIR Events attendee orientation which will be held today, Wednesday, November 1 at 1pm ET.
CLIR and DLF's Climate Justice Working Group have received an IMLS grant to launch the CLIR Climate Resiliency Action Workshop. Read more about the initiative on CLIR's website.
Last month, "Issues in Authority Control: Case Studies in Name Authority Records and Platform User Experience Design" from the DLF Assessment Interest Group's (AIG) Metadata Working Group (MWG) was published on the DLF blog.
CLIR's new podcast "For Your Reference," an exploration of media and information literacy, will be released in November. Learn more and watch the trailer.
CLIR sponsors and DLF members are eligible for discounted registration to the 2024 Digital Humanities Summer Institute (DHSI). More information can be found in this post.
CLIR/DLF will be closed from November 20 through November 24 for Thanksgiving.
This month's DLF group events:
DLF Project Managers Group – Product Ownership webinar
Tuesday, November 7, 1pm ET/10am PT; register for call-in information
Kim Leaman is an IT Project Manager at Princeton University Library (PUL), who focuses primarily on the Library's digital projects and initiatives. She collaborates with staff members from various departments to meet the needs and manage the expectations of internal and external stakeholders. She is also a Product Owner for PUL's digital repository (Figgy), digital maps and geospatial data portal, and curated collections platform (Digital PUL).
Kim will give an introductory overview with examples of her role as a Product Owner and how she fits into the workflows and expectations of the Digital Library Services (DLS) team and their stakeholders.
DLF Digital Accessibility Advocacy and Education Subgroup – The Intersection of Copyright and Accessibility
Thursday, November 9, 3:30pm ET/12:30pm PT; register for call-in information
Whether you are creating or sharing content, it is vital to make it accessible to the widest range of users possible. In this session, we will review how copyright law intersects with accessibility with a focus on specific provisions of the law related to making content accessible and how this topic has been discussed in court cases.
About the Speaker:
Carli Spina is the Head of Research & Instructional Services at the Fashion Institute of Technology Library. She regularly teaches and presents on topics related to accessibility, copyright, and technology in libraries.
This month's open DLF group meetings:
For the most up-to-date schedule of DLF group meetings and events (plus NDSA meetings, conferences, and more), bookmark the DLF Community Calendar. Can't find meeting call-in information? Email us at info@diglib.org. 
DLF groups are open to ALL, regardless of whether or not you're affiliated with a DLF member institution. Learn more about our working groups and how to get involved on the DLF website. Interested in starting a new working group or reviving an older one? Need to schedule an upcoming working group call? Check out the DLF Organizer's Toolkit to learn more about how Team DLF supports our working groups, and send us a message at info@diglib.org to let us know how we can help.