This post was contributed by Elizabeth Rodriguez, of the DLF Digital Library Pedagogy Working Group.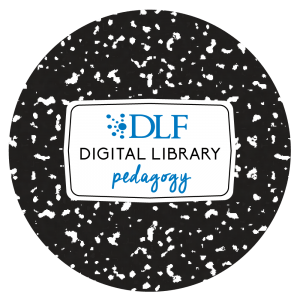 Are you looking for a way to harness your post-Pittsburgh pedagogical momentum and keep building professional relationships? The #dlfteach Slack channel and office hours have got you covered. Every Tuesday at 2pm EST, the Digital Pedagogy Working Group hosts office hours on the #dlfteach channel of the Digital Humanities Slack group. We gather virtually to ask questions, share ideas, and just check in about how the semester is going. All are welcome, no preparation or RSVP required.
Launched as a complement to the bimonthly #dlfteach Twitter chats, #dlfteach Slack office hours have been held every Tuesday since this past June. Conversation ranges from "how are you doing" to "how do you do this." It provides a space for conversation and questions, mostly unstructured, but also open to focusing on specific topics as the need arises. In the lead up to DLF 2017, for example, the office hours hosted the DLF Inclusivity Subcommittee for a follow-up session after the Creating Accessible Presentations webinar. Slack also allows for asynchronous posts and replies, so we've also had people who couldn't attend during schedule office hours post questions to be answered later.
To get started, you will need to create an account for Slack and request membership in the Digital Humanities Slack group. Requesting membership is simple and fast. Visit tinyurl.com/DHslack to get started. Digital Humanities Slack is open to anyone with a curiosity about DH and/or related interests (e.g. digital libraries, museums, and archives). Here is an overview of DH Slack and here is an overview of how to use Slack. It can be used via the web or as a stand-alone app on your desktop.
We hope for this to be an inclusive and productive space, and we welcome communication and feedback. Do you have an idea for a discussion topic, or would you like to volunteer to host a session? Do you have ideas for how to make this space more accessible and useful? If so, please email Liz Rodrigues at rodrigue8@grinnell.edu & we look forward to chatting with you soon!