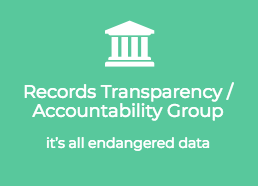 This post comes from Margaret Janz and the Advocacy sub-committee of DLF's GRTA working group. [Update 26 November 2018: the letter described below is now available.]

DLF's Government Records Transparency and Accountability working group (GRTA) has been digging into the Department of the Interior's (DOI) recently publicized draft Request for Records Disposition Authority (DAA-0048-2015-0003) to the National Archives and Records Administration (NARA). Although the request doesn't include many substantial changes to the overall schedule for retention or destruction of records, the attention it gained has brought forth some larger-picture concerns for members of the GRTA group and for others in the government documents community.
Our primary concern relates to the general level of transparency of the processes surrounding records retention change requests, overall. Currently NARA follows a standard procedure of noting requests like this one, once they have been appraised by staff, in the Federal Register. More details about these sorts of announcements can only be obtained through a formal request for more information. It's admirable that NARA fulfills these requests, and encouraging that there is a period during which NARA accepts public comments. The comment period for this particular DOI request was even extended in light of the attention it received. However, we believe this process could benefit from greater public transparency. The GRTA group is currently working on a letter in which we recommend that NARA consider creating a centralized location for publishing these requests and appraisals, with crosswalks and other details made available by default, in much more accessible formats. We're also recommending NARA consider improving the Federal Register's API to simplify the harvesting of actionable information.
Members of the GRTA group do have other concerns about this specific request, with regard to the records included and their proposed retention (and destruction) timelines. Many of the records proposed for disposition contain scientific, observational data or are legal documents that we feel have great research value, and thus should not be destroyed. Environmental observational data such as that generated by the DOI, once collected at a particular point in time, can never be collected again. We also have concerns about changing the level of intellectual control over these records from the various Bureaus and Offices which created them to higher administrative levels in the politically-appointed leadership of the DOI. We hope to use the comment period to address these more specific concerns as a group.
The deadline to comment on this DOI request is November 26. Comments can be submitted to request.schedule@nara.gov.
If you're concerned about any of the data covered by the request, take a look at this spreadsheet version of the crosswalk document (created by GRTA interest group members Margaret Janz and Shari Laster, with support from other group members). The "Importance/Value" column of the GRTA spreadsheet is open to community annotation. James R. Jacobs's blog post, "Holes in History: The Dept of Interior request to destroy records," which includes a template letter to submit for comment, is also a great resource for background information on this request.
We also recommend reviewing the documents below:
Finally, GRTA group member Joseph Koivisto has used the Federal Register API to create a @NARA_update_bot on Twitter, highlighting calls for public comment on record schedule requests and other NARA-related announcements. If you care about government records transparency and accountability, you are warmly invited to join the GRTA group. Our next call is scheduled for December 13th, with information available on the wiki.
As with all DLF working and interest groups, there are no membership costs or institutional affiliation requirements to join. All are welcome!