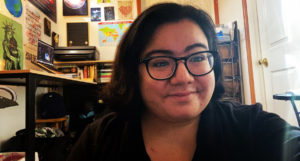 This post was written by Marwah Ayache (@cutiewithecards), who was selected to be one of this year's DLF Forum Community Journalists.
My name is Marwah Ayache (she/her). I am a first generation, Muslim Lebanese-American student librarian. As of now, I work at the University of Michigan – Dearborn Mardigan Library as the User Services Supervisor. Additionally, I am working towards the joint-master's degree at Wayne State University in Library and Information Sciences and Public History with a School Library Media Specialist Endorsement to my Michigan Secondary Education Social Studies and English Teaching Certificate. I have been featured on the @lifeoflibrarians Instagram. In my free time, I enjoy writing, reading, playing on the Nintendo Switch, doing yoga, listening to podcasts, tarot cards, hanging out in coffee shops, and catching up on TV.
---
It has been a pleasure to attend the 2021 DLF Forum as one of DLF's Community Journalists. There were many sessions I enjoyed attending and I have learned so much at an attendee of this conference. The session that stood out to me the most was the keynote address, "1619 to 2021: A Black Journalist Turns the Light of Truth on the History of American Race". This keynote address focused on Nikole Hannah-Jones, a journalist and the creator of The 1619 Project, as she was speaking with Stacy Patton. It was a pleasure hearing from Hannah-Jones on why she decided to start this project, along with her thoughts on race in America including critical race theory and the notion of diversity and inclusion.
As an educator turned librarian, this session touched on projects being discussed in the world of education so it really sparked my interest. Critical Race Theory and The 1619 Project are both projects that are deemed controversial by conservative political leaders and many families across the country and have even been banned from being taught in schools. Teachers have been targeted for teaching on these topics, from being told they cannot include these projects in the classroom to as far as being terminated. It was insightful to hear Hannah-Jones touch on how both of these projects are viewed and deemed as controversial for just simply including the truth — for addressing and focusing on the issues of race and racism in America. Additionally, I enjoyed hearing the support and need for archiving during this keynote address. At first, Patton and Hannah-Jones discussed the issue of sources that are kept from certain people who are looking for information in archive spaces for fear of what they will find. This was shocking to me because this seems unethical to withhold sources from a person just to cover the information that is there. Both women explained that this is common in certain situations, even for them as people who write about race and racial issues. However, I did enjoy hearing that there needs to be more funding and support for archiving in order for information to be preserved correctly. It felt great to hear this support, especially after hearing after how institutions across the country do not put in the effort to archive resources and information on a variety of topics. 
Finally, the keynote address touched on how diversity and inclusion is a notion that is not working in corporate America. It was discussed how many companies will do the most basic thing, like hold diversity and inclusion training, to try to resolve any race issues in the company then move on without doing much else. This is not effective at all since the need for diversity and inclusion in America in the cooperate world is something that is thrown around to make it look like companies look like they care about social issues. In reality, if companies truly cared, then they would make better efforts to address the issues they are facing.