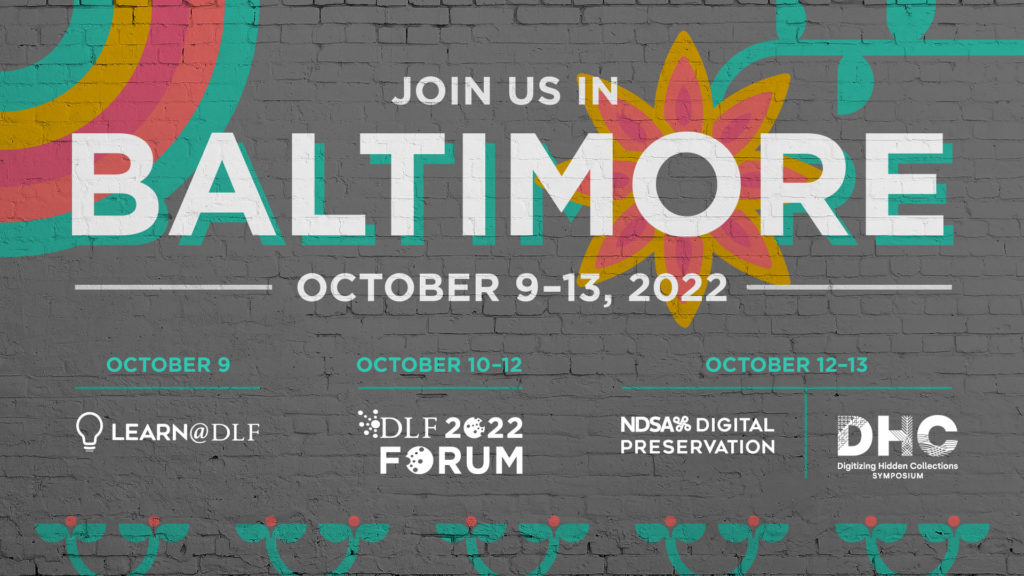 2021 CLIR Events Recordings Now Available
Recordings of all live-streamed 2021 CLIR Events sessions, including DLF Forum opening keynote conversation between Dr. Stacey Patton and Dr. Nikole Hannah-Jones and closing keynote from Nisha Mody, are now freely and publicly available.
Watch and share all of last year's DLF Forum and NDSA's Digital Preservation 2021: Embracing Digitality recordings today!
Join the 2022 CLIR Events Planning Committees
Time is running out to sign up to join the planning committees for 2022's CLIR Events! This year's events will take place in Baltimore, Maryland in October.
To apply to join the DLF Forum planning committee, complete the volunteer form here by this Friday, January 14, 2022: https://forms.gle/2ajaM8zsruL3ctfw8
To apply to join the NDSA Digital Preservation 2022 planning committee, complete the volunteer form here by this Friday, January 14, 2022: https://forms.gle/UaqqJYwhwBrFQvBH9
To apply to join the Digitizing Hidden Collections Symposium planning committee, complete the volunteer form here by next Friday, January 21, 2022: https://forms.gle/KaqfZm37oZpdmoAp7