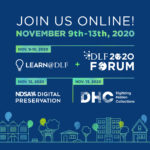 Though DLF is best known for our signature event, the annual DLF Forum, our working groups collaborate year round. Long before COVID-19 introduced the concept of "Zoom fatigue" into our lives, DLF's working groups organized across institutional and geographical boundaries, building community while apart, to get work done. Made possible through the support of our institutional members, working groups are the efforts of a committed community of practitioners, using DLF as a framework for action, engaged in problem-solving in a variety of digital library subfields from project management and assessment to labor and accessibility.
Once we decided that the 2020 DLF Forum and affiliated events would be held in a virtual format, it meant that our working groups wouldn't have the opportunity to meet in person for their typical working meals that take place throughout the Forum; however, this year's virtual format means that we'll have more new DLF Forum attendees than ever before. Because DLF's working groups are open to ALL, regardless of whether you're affiliated with a DLF member institution or not, we asked leaders of the DLF working groups to introduce their groups and the work they do to the new and returning members of the #DLFvillage in a series of blogs and videos.
We'll share these working group updates in the days leading to this year's DLF Forum. 
---
Tools for the LAM Labor Situation
The COVID-19 pandemic has only intensified precarity in our field, but we don't have to face it alone. Over the last 3 years, the Labor Working Group (Labor WG) has been building tools to improve library, archives, and museum (LAM) labor conditions. Nor are we the only ones: Similar efforts are underway in many other groups. Take a tour 🚴 of our resources below and join us as we work to build collective power to take on collective problems.
Collective Responsibility Labor Advocacy Toolkit
In 2019, members of Labor WG organized and participated in the IMLS-funded Collective Responsibility: National Forum on Labor Practices for Grant-Funded Digital Positions. One idea that surfaced at the forum was to collect the project's outcomes along with other resources for documenting and changing the landscape of contingent labor in LAM. We created the Collective Responsibility Labor Advocacy Toolkit to publish these materials.
During 2020, a group of forum and Labor WG members developed Guiding Principles, naming the concepts which have shaped our work so far and concretizing these into principles for our future work. Another group turned working notes on "How to Talk About Collective Responsibility at Work" into a set of scripts and scenarios for discussing contingency and precarity in your actual workplace. We collaborated with members of the Archival Workers Emergency Fund organizing committee to develop these scenarios. In response to the pandemic, we assembled a page of emergency resources for contingent or suddenly-precarious LAM workers.
Valuing Labor in Digital Libraries
In 2018 we published a research agenda identifying areas for investigation and action in LAM labor:
Recognizing labor as being undervalued, unacknowledged, and erased has long been framed as an individual concern in the field of digital libraries, archives, and museums (LAM); but organized and collective action is required to address labor conditions at structural and organizational scales. Such action requires information, from empirical evidence to testimonies to guidance and best practices. This document lays out a research agenda for valuing labor, collaboratively developed by members of the Digital Library Federation Working Group on Labor in Digital Libraries, Archives, and Museums (Labor WG). We intend for research building upon this agenda to also be collaborative: by and for the DLF community.
Each section of the agenda describes a key research area and why it matters, offering questions and research designs that bear investigating. In early 2020, a few members of Labor WG set out to research these questions:
To what extent and how are digital LAM workers organized?

What organizing and advocacy tactics can be effective while minimizing risk for workers?

What are creative and effective ways to share data about digital LAM labor?
We got totally derailed (thanks, COVID) but those questions are still out there and still important, probably more than ever. If you build something from the research agenda, we'd love to hear about it.
Do Better, Love Us
In January 2020, we published a document that has been underway since the working group's formation. "Do Better" -Love(,) Us is built around a simple principle: When funding a term position, fund a good position. If you're writing a grant, it means asking for what you need for such a position, not lowballing on labor in order to win a grant. For funders, it means approving those applications, even if it means funding fewer projects. The cost of these projects should not fall on the workers least equipped to bear it.
Our work on this document inspired the Collective Responsibility project. While it sparked conversations at the forums and shaped some of the project's outcomes, and our revision used ideas, data, and new collaborations developed during the forum, we kept this document within Labor WG. It was important to us to retain this document's aspirational nature, rather than reducing it to the most practical next steps available at this time.
Connect with LAM labor organizers
This work is much too big for just one group. Members of Labor WG didn't want to build one-time solutions or reinvent the wheel, so we went looking for others advocating and organizing to improve the situation of LAM workers. We built a list of organizations and campaigns (see it as a table or a list). We also built up a bibliography on LAM labor, from scholarly articles to local news to blog posts to Twitter threads.
Lately we've been using news alerts to attend to what's happening to LAM workers around the world during the pandemic and what they're doing about it. We know that people are losing their jobs, being furloughed, being replaced, losing pay and benefits, taking on new work outside of their job descriptions, taking on more work in general, caring for their kids and elders while working, caring for other people's kids at work, getting exposed to the novel coronavirus, getting sick, getting into it with patrons about masks, petitioning management, protesting, writing open letters into the void, organizing, doing nothing, changing jobs, and leaving LAM.
Our dream is for people to read about something via Labor WG, recognize an affinity, and get in touch with those organizers. All of these tools are available to you without signing up for anything or even talking to us. That said, if something we do or say helps you make a connection or get a win, we want to hear from you. Success stories have been in short supply in LAM labor, but we'll keep looking for them.