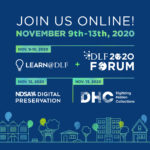 Though DLF is best known for our signature event, the annual DLF Forum, our working groups collaborate year round. Long before COVID-19 introduced the concept of "Zoom fatigue" into our lives, DLF's working groups organized across institutional and geographical boundaries, building community while apart, to get work done. Made possible through the support of our institutional members, working groups are the efforts of a committed community of practitioners, using DLF as a framework for action, engaged in problem-solving in a variety of digital library subfields from project management and assessment to labor and accessibility.
Once we decided that the 2020 DLF Forum and affiliated events would be held in a virtual format, it meant that our working groups wouldn't have the opportunity to meet in person for their typical working meals that take place throughout the Forum; however, this year's virtual format means that we'll have more new DLF Forum attendees than ever before. Because DLF's working groups are open to ALL, regardless of whether you're affiliated with a DLF member institution or not, we asked leaders of the DLF working groups to introduce their groups and the work they do to the new and returning members of the #DLFvillage in a series of blogs and videos.
We'll share these working group updates in the days leading to this year's DLF Forum. 
---
In this blog post, we briefly describe the mission and activities of the DLF Privacy and Ethics in Technology Working Group.
Overview of the Working Group
The DLF Privacy and Ethics in Technology Working Group is based on the recognition that libraries are increasingly investing in systems that can collect, store, analyze, and potentially leak data related to user activities. The work of the group focuses on challenging and complicating our relationship with data collection technologies. We then seek to create tools and resources to help practitioners critically engage with these data collection technologies, with the goal of aligning our practice with privacy-oriented principles—for the ultimate betterment of our profession, our user communities, and society.
Resources Produced by the Working Group Members
We have an active and thriving group membership. Over the past few years, our members have collaborated to co-produce new resources to improve practice in support of privacy and responsible use of data-collecting technologies:
Joining the Working Group
Our working group is flexible and adaptable according to our members' interests. If you would like to contribute to the production of resources like those listed above, or if you want to help build a new resource that addresses a different topic in this area, consider joining our group. We have a wiki available through the DLF website that provides more information: https://wiki.diglib.org/Privacy_and_Ethics_in_Technology. 
Future Directions
Moving ahead, we as co-conveners want to emphasize greater collaboration and visibility with other groups and organizations that focus on privacy, ethics, and the responsible use of technology. Through collaboration and cross-learning with other related organizations—including those in adjacent fields—we hope to strengthen our work in pursuit of shared goals. We're especially emphasizing building deeper relationships with public librarians and librarians of diverse backgrounds.
We hope that you're doing well wherever you are, and we hope that we'll be talking to you soon about privacy and ethics in technology.
— Scott W. H. Young, UX & Assessment Librarian, Montana State University
— Michelle Gibeault,  Scholarly Engagement Librarian for the Humanities, Tulane University