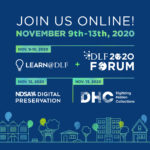 Though DLF is best known for our signature event, the annual DLF Forum, our working groups collaborate year round. Long before COVID-19 introduced the concept of "Zoom fatigue" into our lives, DLF's working groups organized across institutional and geographical boundaries, building community while apart, to get work done. Made possible through the support of our institutional members, working groups are the efforts of a committed community of practitioners, using DLF as a framework for action, engaged in problem-solving in a variety of digital library subfields from project management and assessment to labor and accessibility.
Once we decided that the 2020 DLF Forum and affiliated events would be held in a virtual format, it meant that our working groups wouldn't have the opportunity to meet in person for their typical working meals that take place throughout the Forum; however, this year's virtual format means that we'll have more new DLF Forum attendees than ever before. Because DLF's working groups are open to ALL, regardless of whether you're affiliated with a DLF member institution or not, we asked leaders of the DLF working groups to introduce their groups and the work they do to the new and returning members of the #DLFvillage in a series of blogs and videos.
We'll share these working group updates in the days leading to this year's DLF Forum. 
---
The Metadata Support Group is excited to be part of the  2020 DLF Forum virtual community. We would like to share an open invitation for anyone who works with metadata to join our community. The Metadata Support Group was founded in 2016 on Slack in order to provide colleagues from the GLAM (Galleries, Archives, Libraries, Museum) Community with a space to ask questions, get answers, and develop a network of colleagues from institutions across the country. The Metadata Support Group has over 600 members and 18 channels dedicated to topics such as general questions, migrations, conferences, ArchivesSpace, tools, workflows, and much more. Anyone is welcome to join our community, just agree to our code of conduct when you fill out this form.
If you have any questions about the group, feel free to reach out to the co-founders and facilitators:
Julie Hardesty, jlhardes@iu.edu
Liz Woolcott, liz.woolcott@usu.edu
Anna Neatrour, anna.neatrour@utah.edu
Bria Parker, brialparker@gmail.com