We are very pleased to announce that Jarrett M. Drake will keynote the 2016 DLF Liberal Arts Colleges Pre-Conference, to be held November 6, 2016, in Milwaukee, Wisconsin. This second #dlfLAC will again precede the DLF Forum. (Registration is open!)
Drake's keynote, focusing on "the role of college and university archives in documenting and dialoguing dissent student activism on campus," will kick off a one-day meeting specifically created for those who work with digital libraries and/or digital scholarship at liberal arts colleges. The event is designed to foster conversation and build community, both formally and informally. Participants do not need to be members of DLF.
DLF LAC Pre-Conference Keynote Speaker: Jarrett M. Drake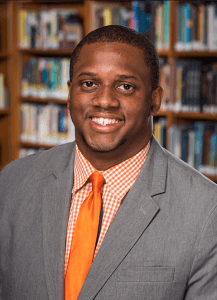 Jarrett M. Drake is the Digital Archivist at Princeton University's Seeley G. Mudd Manuscript Library, where his primary responsibilities entail managing the Digital Curation Program, describing born-digital archival collections for the Princeton University Archives, and coordinating the Archiving Student Activism at Princeton (ASAP) initiative. He is also one of the organizers and an advisory archivist of A People's Archive of Police Violence in Cleveland, an independent community-based archive in Cleveland, Ohio, USA, that collects, preserves, and provide access to the stories, memories, and accounts of police violence as experienced or observed by Cleveland citizens. Jarrett serves on the advisory board of the StoryCorps Justice Project and Documenting the Now: Supporting Scholarly Use and Preservation of Social Media Content. He also is a member of the 2016 cohort of the Mandela Dialogues on Memory Work, a program organized by the Nelson Mandela Foundation and the Global Leadership Academy that convenes an international dialogue series for thought leaders and change agents in the field of memory work. Jarrett earned a B.A. in history from Yale College and an M.S.I. from the University of Michigan School of Information. His prior work experience includes the University of Michigan Special Collections Library, the Bentley Historical Library, and the Maryland State Archives. Find him on Twitter @jmddrake.
---
Drake is one of three terrific keynoters for our week of allied events: Stacie Williams will keynote the DLF Forum, and Bergis Jules will keynote NDSA's Digital Preservation 2016. We hope you will join us in Milwaukee!