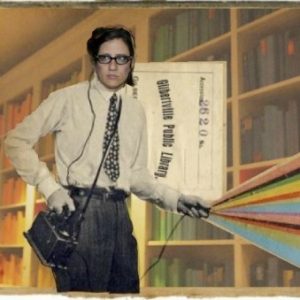 This post comes to us from new group coordinator Rachel Mattson. Rachel works in the Archives of La MaMa Experimental Theatre Club and is a member of the XFR Collective. She previously volunteered for I-Witness Video, a group that used citizen video and archival strategies to oppose police misconduct.
By the time the news hit, in early February, that the FBI would no longer accept FOIA requests via email ("the FBI suggests sending a fax" instead), I was already wishing there was a government records accountability group I could join. I followed, with interest and support, the work of the Data Refuge and the End of the Term Web Archive projects. I re-tweeted horrifying reports about new restrictions on federal and state records transparency – including Congress's repeal of a rule requiring oil companies to disclose payments to foreign governments; the scrubbing of Nexis-Lexis data about Jeff Sessions just before his Senate confirmation; and the NYPD's denial of a FOIA request related to the police murder of a young black man. I felt waves of panic. I also recalled that a truly open government (in which government data and records are made available in adequate measure to journalists, lawyers, scholars, and the public) has never really existed in the US. Along the way, one of the many things that gained a sharper focus for me was this: I believe in the importance of government records and data transparency, I believe that librarians and archivists hold an important perspective on these issues, and I wish to join with other information professionals to study, teach, and struggle in that direction.
At some point in there, I tweeted about this feeling, this belief. I felt pretty lonely when I composed that tweet; no matter how many protests I attend, loneliness is part of the effect that this new political climate is having on me. But amazingly, a bunch of folks – many of whom are members of the DLF, or DLF-adjacent – responded to my lonely little tweet. One thing led to another, and we decided to form a new DLF interest group oriented around the topic of records transparency, open data, and accountability.
With this blog post we officially announce the formation of the DLF Interest Group on Government Records Transparency and Accountability. A few emails have been exchanged, and an initial conference call has been convened. (Minutes from that call can be viewed here.) But the work of this group is still in development, and we invite you to join us as we consider possible strategies for moving forward together.
Some possible directions in which our endeavors might go:
Learn, listen, gather info, ask questions. Reach out to organizations already doing smart work in the area of government sunshine, FOIA, public records transparency, and government accountability, and learn all that we can about their work. Where are these groups putting their efforts? What are the central concerns, questions, and debates they consider to be important? Which groups do we want to make connections to? Also: what are librarians and archivists already doing in this area? How might we extend and contribute to this work?
Consider, discuss, and outline the ways in which this work, these questions, overlaps with our own areas of expertise and labors. How might we bring conversations about transparency and accountability into our schools, workplaces, and professional communities?
Consider, discuss, and work toward understanding how we might use our expertise and situated-ness to support increased public records transparency and accountability at the local, state, and federal levels.
Share what we learn with the broader DLF and library/archives community (and beyond?).
One project we know we will be supporting in the coming months is the inaugural Endangered Data Week (April 17-21, 2017). Spearheaded by a dedicated group of collaborators in collaboration with DLF, this distributed event is designed to bring "awareness to different types of threats to publicly available data, engage with the power dynamics involved in data creation, sharing, and retention, and make endangered data more secure and accessible." Please mark your calendars now. More information about this effort will be available very soon.
Meanwhile, we invite you join our new Interest Group! (You don't have to be a DLF member to participate.) We have a newly formed Google Group in which you can request membership and will be posting minutes and meeting dates on our DLF wiki page. Our next call is on Friday, March 3rd at 1pm EST. See phone and login info for this and future calls on the wiki.
It's already a pretty exciting crew of folks with a wide range of experiences that I'm excited to learn from and with.