The NDSA established its Innovation Awards in 2012 to recognize and encourage innovation in the field of digital stewardship.  Since then, it has honored 39 exemplary educators, future stewards, individuals, institutions, and projects for their efforts in ensuring the ongoing viability and accessibility of our valuable digital heritage. The 2020 NDSA Innovation Awards are generously sponsored by Digital Bedrock.
Today, NDSA adds 8 new awardees to that honor roll during the opening plenary ceremony of the 2020 NDSA Digital Preservation Conference.   These winners were selected from the largest pool of nominees so far in the Awards' history: 32 nominations of 30 nominees.  While the pool size made the judging more difficult, the greater breadth, depth, and quality of the nominations is a positive sign for the preservation community, as it is indicative of the growing maturity and robustness of the field.  This year's awardees continue to reflect a recent trend towards an increasingly international perspective and recognition of the innovative contributions by and for historically underrepresented and marginalized communities. 
Please help us congratulate these awardees!  We encourage you to follow-up in learning more about their activities and the ways in which they have had a profound beneficial impact on our collective ability to protect and make accessible our valuable digital heritage.
Educators are recognized for innovative approaches and access to digital preservation through academic programs, partnerships, professional development opportunities, and curriculum development. 
This year's awardees in the Educators category are:
Library Juice Academy Certificate in Digital Curation.  This program, launched in 2019, encompasses a six-course sequence for library, archives and museum practitioners wanting to learn more about and expand their skill sets for curating and maintaining unique digital assets. The curriculum offers comprehensive coverage of collection development and appraisal, description, rights and access, digital preservation, and professional ethics and responsible stewardship.  The program's affordability, flexible scheduling, and online pedagogy encouraging engaged collaborative learning provides a unique opportunity for professional development and continuing education.  In particular, the emphasis placed on ethics and sustainability provides an appropriate counterpoint to other more technically-focused topics, drawing needed attention to critical issues of policy, finance, equity, and diversity.

International Council on Archive (ICA) Africa Programme Digital Records Curation Programme.  The Programme supports the professional development of new generations of digital archivists and records managers in Africa, a geographic and cultural region historically marginalized and underrepresented in international digital stewardship discourse, practice, and education. The Programme's volunteer-taught study school uses open access readings and open source tools to minimize technical resource and financial impediments to participation, and to encourage creative repurposing of pedagogic materials in the participants' local contexts.  The Programme also provides financial support for early-career practitioners and educators across the African continent to attend and learn, share their own teaching techniques and insights, and to build a professional research and teaching network.  Parallel instructional opportunities are offered for Anglophone and Francophone participants.  With a focus on "training the trainers", the Digital Records Curation Programme promotes the development of maturing cohorts of stewardship practitioners and the growing professionalism of digital preservation activities focused on long-term stewardship of Africa's vital digital heritage.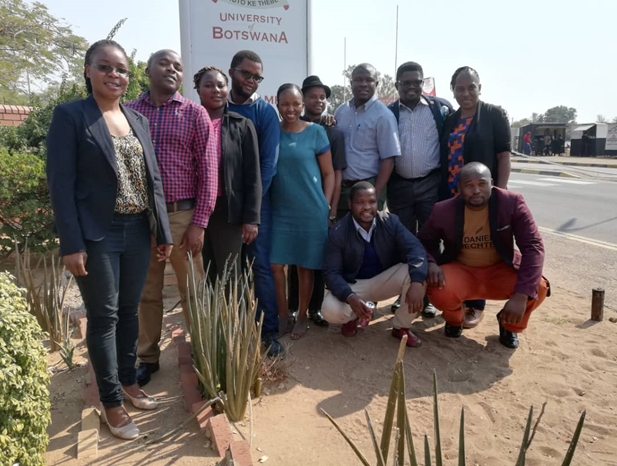 Future Stewards are recognized as students and early-career professionals or academics taking a creative approach to advancing knowledge of digital preservation issues and practices. 
These year's awardees in the Future Stewards category are: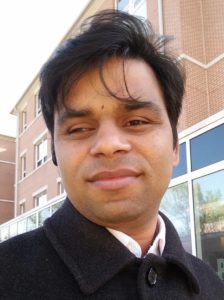 Sawood Alam.   A PhD candidate at Old Dominion University, Sawood has been an active participant in the digital preservation community via the International Internet Preservation Consortium, the ACM/IEEE Joint Conference on Digital Libraries, and other communities for years, presenting and reporting on the complex topics, like holdings of web archives, decentralized systems, archival fixity, web packaging, and more. As a developer and systems architect, Sawood is a strong advocate for open-source and open-access tools, and has offered courses and lectures on various programming languages like Linux, Python, Ruby on Rails, and more. A mentor to new graduate students and researchers, Sawood will join the Internet Archive after graduation, leveraging his engineering experience and his academic experience to perform outreach to research groups interested in making use of the Wayback Machine's holdings.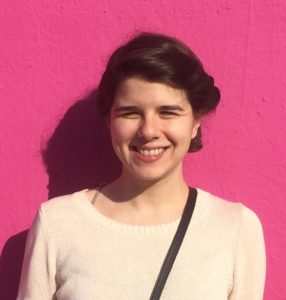 Carolina Quezada Meneses.  As an intern, Carolina worked on a variety of projects that ranged from exploring new tools and software that help preserve, manage, and provide access to born-digital material, and helped develop a remote processing workflow that enabled University of California, Irvine (UCI) staff to work on the organization's digital backlog while working from home during the Coronavirus pandemic. 
However, it is Meneses's work with the Christine Tamblyn papers — which included numerous Macintosh-formatted floppy disks and CD-ROMs — that deserves additional praise: faced with ample technical challenges to providing access, Quezada created disk images of the floppy disks and CD-ROMs with specialized hardware, found a compatible emulator, and created screencast videos of the artwork, making the content accessible to a broader audience than traditional on-site access would typically allow.  Thanks to Meneses's innovative thinking, a collection that had no prior level of access for 22 years is now accessible to researchers, and remains an example of her lasting dedication to providing access to born-digital formats.
Organizations are recognized for innovative approaches to providing support and guidance to the digital preservation community.  This year's awardee in the Organizations category is:
National Archives and Records Administration (NARA).  NARA has a notable history of providing records management guidance focusing on digital preservation and addressing key factors to the successful permanent preservation of digital content. This year, the panel is pleased to distinguish NARA's Digital Preservation Framework. Created after an extensive environmental scan of community digital preservation risk assessment and planning resources, this project recognizes that successful digital preservation requires both understanding the risks posed by file formats and identifying or developing processes for mitigating these risks. In response to this, the Framework provides extensive risk and planning analysis for over 500 formats in 16 type categories. The Framework can be applied across the lifecycle of digital content and is designed to enable a low-barrier to use, regardless of an organization's current digital preservation practices or infrastructure. This information – officially released on GitHub in June of 2020 – is a vital tool of great, if not critical, utility to international stewardship programs and practitioners.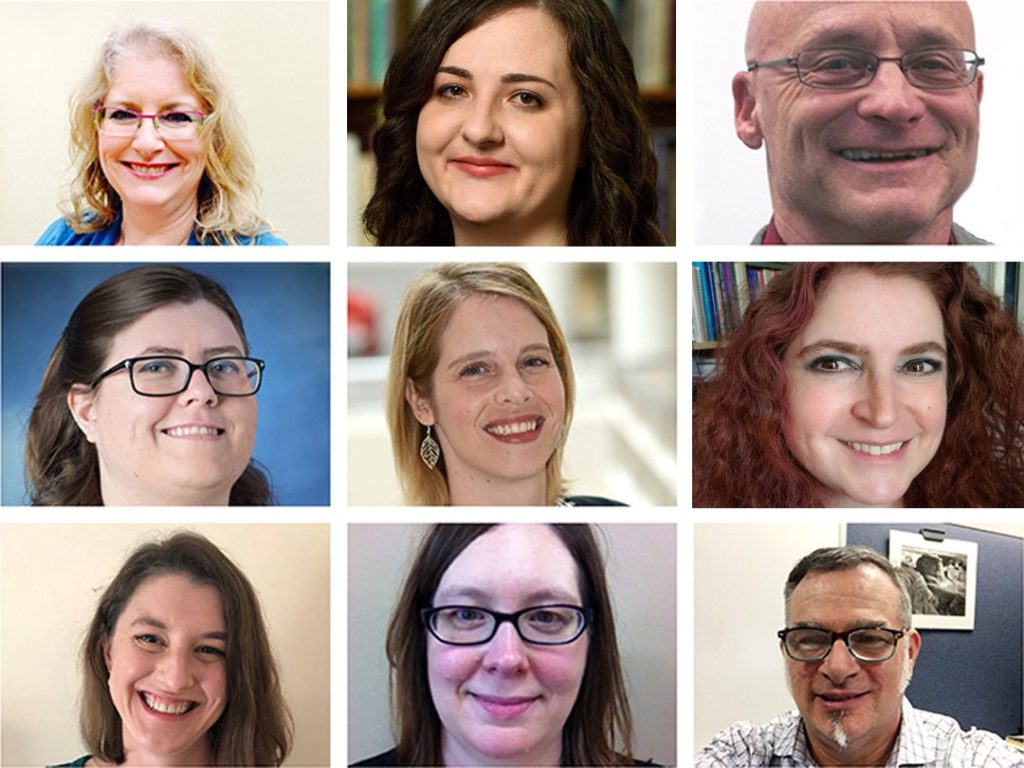 Projects are recognized for activities whose goals or outcomes represent an inventive, meaningful addition to the understanding or processes required for successful, sustainable digital preservation stewardship. 
This year's awardees in the Projects category are:
DLF Levels of Born-Digital Access (LDBA)

.  Preservation and access are often viewed as two disparate concerns and activities, when in fact they are necessary complements.  Despite the central role that access plays in digital preservation, little agreement exists about what access to digital material should look like or how it might be implemented from institution to institution.  Levels of Born-Digital Access created by the DLF

Born-Digital Archives Working Group

(BDAWG) sought to address and fill the gap.  This instrument was developed through an iterative and inter-institutional collaborative effort. It delineates a tiered set of format-agnostic recommendations applicable f or internal or external assessment and planning of enhancements to capabilities and capacities. This document is responsive to both practitioners' and researchers' needs, while also serving as a potential model for future standards development.  The work of the LDBA is important in highlighting the critical role access plays in any effective long-term stewardship program.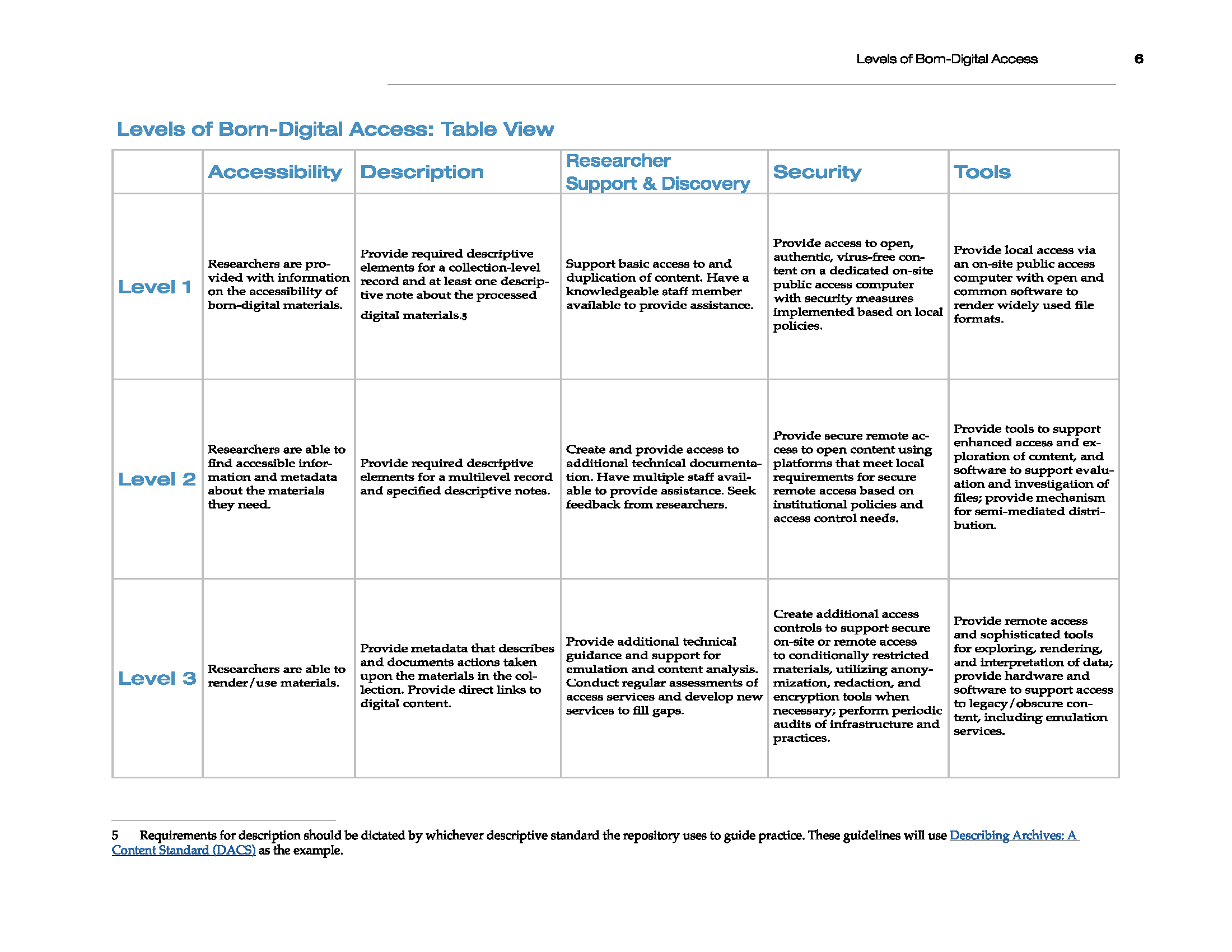 Project Electron

.  A multi-year initiative at the

Rockefeller Archive Center

to implement sustainable, user-centered, and standards-compliant infrastructure to support the ongoing acquisition, management, and preservation of archival digital records.  The project includes a digital records transfer pipeline called Aurora, as well as a transfer specification and integrations with existing archival systems for accessioning, digital preservation, and description.  The awards panel was particularly impressed by the Project's comprehensive adaptation and extension of traditional archival principles and workflows to digital materials.  The panel also recognizes the positioning of this initiative as an open-source and standards-based effort, maximizing opportunities for its transferability to other programmatic contexts.  Many archival institutions face significant challenges in supporting digitized and born-digital records and special collections.  The work of Project Electron provides an important exemplar for effective and sustainable digital archival handling.

Tribesourcing Southwest Film Project

.  The Tribesourcing project aims to preserve — in a culturally appropriate way — a digitized collection of non-fiction films that document Native cultures across North and South America.  Many of these films contain beautiful and valuable images; however, the original narrations are often insensitive and racist.  The project invites Native community members to record new, culturally-competent narrations in indigenous or European languages as alternate audio tracks for the films.  This process, which project lead Jennifer Jenkins has termed "tribesourcing," has the double benefit of repatriating historic images and decolonizing these archival films.  By including Native language narrations, the project also creates a digital repository for language preservation tied to films about culture and lifeways.  These narrations are recorded and presented online using accessible and open source tools.  The Tribesourcing project models an innovative solution to the question of integrating ethics and cultural competencies in digital preservation work.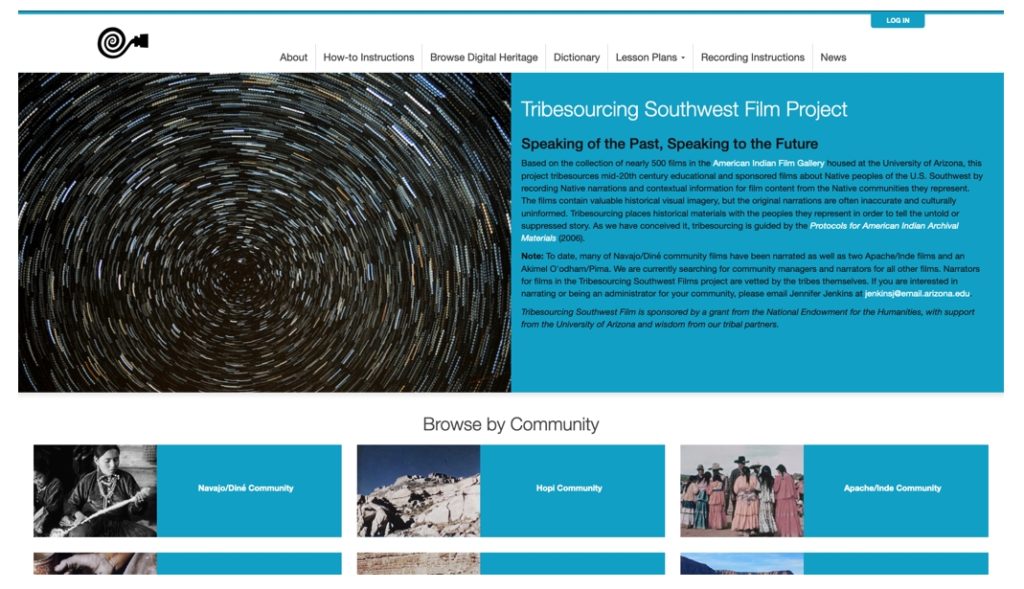 ~ The NDSA Innovation Awards Working Group
Samantha Abrams (Ivy Plus Libraries Confederation)

Stephen Abrams (Harvard University; co-chair)

Lauren Goodley (Texas State University)

Grete Graf (Yale University)

Kari May (University of Pittsburgh)

Krista Oldham (Clemson University; co-chair)