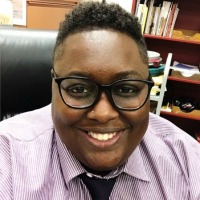 Jessica C. Neal (@JestheArchivist) is University Archivist at Trinity University and  attended the 2017 Forum as an HBCU Fellow. The award, which brought 24 fellows to the conference, was part of a collaborative effort with the HBCU Library Alliance, supported by a grant from IMLS. 
The DLF/HBCU Alliance Pre-conference in many ways served as a retrospective for me. The unconference allowed me to reflect on the archival work I've done both within and outside of academic institutions, and how I would like to craft the legacy of my work for the future. Conversations with colleagues in the workshops on community archives and building community relationships and social justice in online spaces galvanized me to think more critically about how I can better collaborate with and amplify the experiences of communities of color in archives at the institutional level. Specifically, how can my colleagues and I work to resist the pressures to build and highlight only those collections that perpetuate dominant narratives, which ultimately shape the collective memory of institutions?  
One approach to the aforementioned question is challenging and changing the culture of the academic library and institutional archives. In her keynote on "Staffing for a digital library: the promise, the plan, and the response," Loretta Parham stressed that the library as it is known today, cannot be the library of tomorrow. One key component in changing the culture of the academic library is diversification. Diversifying will only serve to enhance collections, outreach, and stimulate new and innovative ways to be better information professionals. Reforming hiring practices, redistributing responsibilities to be more inclusive of staff members and their skill-sets, and reimagining the academic library of the future—especially in the digital aspect— will enable us all to be better digital stewards.
After the preconference and DLF, I am thinking more about how my work can be best done in both traditional archives and in digital spaces. As an archivist and scholar of African-American studies working at a predominantly white institution, a critical part of my work is to strategize and identify practices that dismantle the tradition of excluding "the other" in the historical and digital records of the university. I primarily intend to do this work by being more intentional in documenting and preserving the experiences of underrepresented student organizations on campus and of the African-American community in San Antonio, TX. In my work, I will be applying a more grassroots and community-archiving approach of extending outreach, gaining trust, and seeking to obtain materials through collaboration and rapport building. A final takeaway for me from the pre-conference and DLF was how can I––despite my being linked to a private and very wealthy white institution––be an ally and offer my professional skills to the surrounding communities of color and underrepresented student organizations who are not interested in sharing and or donating their collections to the university?