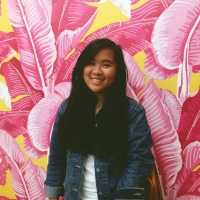 Jessea Young (@itsjessea) is Digital Collections Librarian at William H. Hannon Library, Loyola Marymount University, and attended the 2017 Forum with support from an ARL+DLF Forum Fellowship. 
When I arrived in Pittsburgh for the Digital Library Federation Forum, I was stuck on the term "critical connections." I had seen the term while reading The Next American Revolution: Sustainable Activism for the 21st Century by Grace Lee Boggs and Scott Kurashige, which I had been reading to access how movement activism could guide my role as a Digital Initiatives librarian. Grace argued movements are born of critical connections rather than critical mass. I was trying to understand my position managing most of the university's digital assets: the institutional repository, digital collections, and digital-born materials for the University Archives. I wanted to explore how open access could empower or disenfranchise potential users, especially as my institution focuses on creating global leaders in the face of a growing digital divide. The DLF Forum offered a variety of methods and tools for me to explore these ideas, think about innovating our methods, and then provide resources for me to create actionable steps.
The DLF Forum allowed me to see what other institutions have been able to do to support and uplift communities. My favorite takeaways came from Christy Hyman's "Critical Cartography, Deep Mapping, and Enslaved Flight" from "Critical Cartography across the Digital Library" session. Hyman uses counter-mapping as a tool to propel the narratives of those erased and silenced in history into the present and the future. I was learned a lot from The University of Iowa's "They Live!: Fanzines and Digital Access" panel, which allowed me explore the idea of crowdsource transcription for digital collections. I was also able to learn so much about data management and preservation best practices and challenges. Tools I have already put to use since the DLF Forum.
The DLF  Forum also allowed me to make critical connections with colleagues. In a small institution like mine, it is really easy to feel alone (and frantic) trying to learn everything about "digital" to support faculty needs. The support and guidance provided by speakers and attendees was a great stepping stone for me to reorganize my goals, explore new tools, and expand my skillset. The DLF Forum was very empowering.
I think this conference really embodied how I could make critical connections with colleagues, even if I was in a mass of attendees. I am still exploring the intersection of Digital Initiatives and the promotion of justice on campus, but the DLF Forum gave me the toolset to start those conversations. Project management and outreach skills are skills that constantly need to be evaluated and improve, so I was thankful that presenters talked so candidly about their experiences and projects. Thank you so much for the opportunity to attend Digital Library Federation. I am excited to attend in the future and develop as a Digital Collections Librarian.