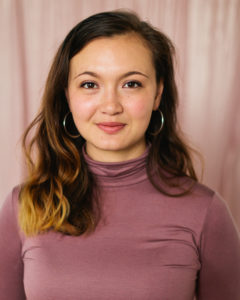 In March, with support from a GLAM Cross-Pollinator Registration Award, Erika Mei Chua Holum attended the 2023 Electronic Resources and Libraries (ER&L) conference in Austin, Texas. We're glad to share her thoughts on the experience below.
Erika Mei Chua Holum (she/they) is the Cynthia Woods Mitchell Assistant Curator at the Blaffer Art Museum at the University of Houston. Her curatorial work and research focus on intimacies and interconnected (hi)stories revealed through artistic practices, south-south relationships, ways of gathering, and archival methods following forms of historical displacements. She has contributed to projects and exhibitions worldwide, such as makibaka! Fifty Years of Filipino-American Youth Activism at Alief Art House (2021), Duro Olowu: Seeing Chicago at the Museum of Contemporary Art Chicago (2020), the Second Edition of the Lagos Biennial in Nigeria (2019), and Obscura Festival of Photography in Malaysia (2018). She has previously held positions at the Terra Foundation for American Art, Chicago Public Libraries, Fulbright Malaysia, European Cultural Academy, and 32° East | Ugandan Arts Trust. Erika holds an MA in Museum and Exhibition Studies from the University of Illinois, Chicago and is completing a Masters in Library and Information Science at the University of Illinois, Urbana-Champaign in 2023.
---
The DLF GLAM Cross-Pollinator award offers an opportunity to gather with professionals from various disciplines, including digital librarianship, archives, and museums, to share knowledge and ideas on how to leverage technology to advance their fields. The ER&L Conference provides a platform for attendees to network, collaborate and learn from one another.
I attended the ER&L Conference and had an enriching experience to gain more information about interdisciplinary work and collaboration across these fields. The conference offers a diverse range of sessions and workshops that cover topics such as digitization, metadata, data management, and user experience. It also provides an opportunity to connect with like-minded professionals and engage in thought-provoking discussions about the future of digital preservation and access.
The ER&L Conference provides a platform for professionals in the library and information science field to come together and discuss the latest trends, technologies, and best practices related to electronic resources management. These conferences offer opportunities for attendees to network, learn from experts in the field, and share their own experiences and knowledge.
With the increasing importance of electronic resources in libraries, attending these conferences can be valuable for librarians, information professionals, and others working in the field to stay up-to-date on the latest developments and techniques. These conferences provide an excellent opportunity for attendees to expand their knowledge, share ideas, and collaborate with colleagues from around the world. Overall, electronic resources and libraries conferences are essential for anyone who wants to stay ahead of the curve in this rapidly changing field.
The ER&L Conference is an excellent opportunity for professionals to expand their knowledge, gain new insights, and form valuable connections within the digital library, archives, and museum communities.