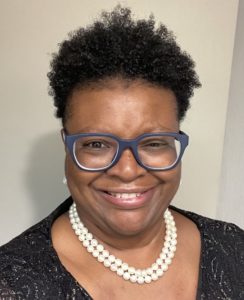 This post was written by Dr. Clarissa West-White (@clarissawhite), who attended the 2022 DLF Forum as a Historically Black Colleges and Universities (HBCU) Fellow.
Dr. Clarissa West-White is the University Archivist, Assistant Professor at Bethune-Cookman University in Daytona Beach, Florida. A native of Quincy, Florida, she has degrees in Creative Writing, Curriculum & Instruction English Education and Information from Florida State University. Dr. West-White has experience as a middle and high school English teacher, program coordinator, adult literacy director, university English department chair, and assistant professor and adjunct at a number of public and private universities in the state of Florida and online. She has completed archival projects and served as an education consultant with the U.S. and Florida Department of Education. She has received fellowships and scholarships, including: Robert Frederick Smith Internship, National Museum of African American History & Culture, Smithsonian Institute; Teacher and Librarian Scholarship Recipient, Key West Literary Seminar; National Information Standard Organization (NISO) Plus Scholarship Recipient; Preserving digital Objects With Restricted Resources Institute Recipient; Fulbright-Hays, Turkey. When not at work, Clarissa enjoys spending time with her family, road trips, downtown strolls, traveling, photography and the beach.
---
Accession numbers. When I transitioned to the library as a Reference Librarian from serving as Department Chair and Assistant Professor of English in 2018, I recall briefly discussing assigning accession numbers to collections with the Curator and University Archivist. I listened. The information nestled in the far, far recesses of my mind as I moved into my new space absorbing data and information, engaging with students and faculty, and attending countless webinars. I also began an online Master of Information program. I cannot recall the subject of accession in any course, which is okay because why would I, a Reference Librarian, need to know anything about assigning accession numbers? Four years and four months later I found myself appointed as the University's Archivist. There was so much to do that I did not readily need to know how to assign the numbers. After settling a dozen student workers and an English class of 32 volunteering freshmen, and working with faculty to craft research projects with the Archives as subject, it slowly became apparent when delegating work assignments why I needed to know how to assign accession numbers. For instance, how do you differentiate new additions to a collection? Like any librarian I searched and found a gamut of definitions, anecdotes and theoretical theses. My prediction that there was a scientific spreadsheet was quickly proven false. There was no science to this and examples demonstrated vast differences: some numbers were under 8 characters, others more than 20. Thus, I arrived in Baltimore with many questions to pose to Forum goers; however, I was reticent about asking just anyone. I needed a strategy. I figured I would ask the person who smiled the most or greeted me warmly. Well, that was just about everybody! This is no easy feat as conference attendees can attest. I hesitantly but enthusiastically raised my confusion in what proved to be a very safe space. I was able to breathe and enter deep-probing conversations with people I just happen to sit next to at lunch or in a session; the Forum began to feel like work – in a good way.  The metaphors used to describe the process was really what the literati in me needed. After much thought, what I heard was, "Think of it as a tag you place on items on a shelf. The number needs to tell you the story of the item." I immediately thought of the items in my home. My grandmother's living room set, my mother's vase. I would 'tag' different numbers to the rocking chair I inherited from my grandmother compared to the one I ordered from Wayfair a couple of years ago. Thanks to conversations with a fellow Fellow (LOL), a project manager, and a recently minted collections librarian within reach, I realized that my angst was imagined, self-imposed.  I now have a system in place for assigning accession numbers that tell the story of each collection. Collections will live beyond my temporary placement as archivist. My role is to assign numbers that will assist those who follow in figuring out the collection's how. The number will not say as much as the finding aid, but it should speak to the collection's internal journey from some roughly stacked boxes or crates to a curated reimagined narrative.