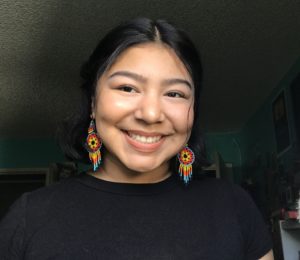 This post was written by Evelynn Cuautle (@evelynn_ctle), who attended the 2022 DLF Forum as a Grassroots Archives and Cultural Heritage Organizations Fellow.
My name is Evelynn Cuautle and I am a recently graduated (2021) University of California, Irvine, alumna with a Bachelor of Arts degree in Public Health Policy and a minor in Chicane/Latine Studies. During my last year as a student, I was an undergraduate Research Fellow for the Black Panther Party's Oakland Community School Project (OCS). Since then, I have been a part of the New Visions for Educational Fugitivity Collective, an inter and cross-campus research collective of faculty, graduate and prospective graduate students conducting interdisciplinary educational research on anti-blackness and white supremacist violence in schooling, and alternatives rooted in liberatory models of education. I am also currently an English tutor to international students, aiming to embody the liberatory practices in education I have explored through the OCS archives and the research collective that center students and their own embodied knowledge. Moving forward, I hope to delve further into my growing interests in digital humanities, archives, and public history.
---
Attending the DLF Forum for the very first time this year was both incredibly memorable and inspiring. All of the presentations I attended struck me in very different ways as a scholar who only relatively recently has had the opportunity to learn about and begin exploring how I would personally like to contribute to digital humanities projects. As a project assistant for the Black Panther Party's Oakland Community School Project (O.C.S), a digital humanities project itself, I entered each space of the conference particularly interested in how community involvement and engagement shaped the amazing work of all the speakers.
In this regard, a presentation that particularly moved me was Javier Garibay's "Choreographing the Archive: rewards and challenges in the Dance Heritage Video Archive". Garibay's presentation detailed the expansion and migration of the Dance Heritage Coalition's dance history video collection to UCS's Digital Library. In all honesty, my first reaction was more of an emotional one than anything. Listening to Javier's own participation and commitment to the community of Mexican baile folklórico [folkloric dance] in Southern California, I was reminded of the importance and beauty of representation. Both the concept of representation and accessibility of the collection to these same communities of dance was wonderfully portrayed by Javier's anecdote in which a community member identified herself as one of the dancers from a dance video from the seventies–if I remember correctly–being shown at an event. In relation to the archival work I have been honored to assist in organizing and the community programming I have contributed to, the same themes of pride, joy, and nostalgia, arise when community members see themselves and reminisce. The potential of the collection as mentioned by Javier includes classroom teaching, pedagogy, and cultural programming. While I made sure to take notes on the challenges in migrating the growing digital collection, the dedication and intentionality with which the community is taken into consideration is a key takeaway of mine from this session.
I also have the DLF Forum to thank for being hosted in Baltimore. It was my first time ever visiting the state of Maryland and I feel grateful to have participated in the conference as a Grassroots Archives and Cultural Heritage Organizations Fellow this year. I loved the group trip with other Forum attendees to Baltimore's own American Visionary Art Museum on the first day. Though attending museums is always fun, I spent extra time looking at all the brilliant works from self-taught artists with such awe.
Again, I am ever-grateful for the experience of having attended the DLF Forum this year and I hope I attend next year's conference in St. Louis.