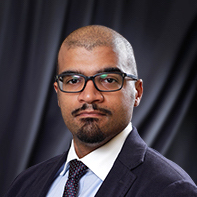 This reflection was written by Adam Townes, Coordinator of Research Support Services at the University of Houston. Adam attended the Forum with support from an ARL+DLF Forum Fellowship.
"It is my earnest hope to participate in the DLF Forum in order to develop new knowledge and skills for use in my community and at work, but also to broaden my contribution by participating this the DLF community."
That was the final line of my personal statement that I submitted to DLF in my Fellowship application. As an academic librarian who has spent quite some time in graduate school, the exchange of knowledge is something almost sacred to me. That being said, when I left Houston to travel to Milwaukee, I felt a fair amount of anxiety because I wanted to meet as many of my professional colleagues and learn as much from them as possible. I also hoped to make at least some positive impact on these colleagues as well.
During the opening plenary, I was struck by how many people were at the conference. There was practically standing room only in the Grand Ballroom of the Pfister Hotel, and for good reason. The speaker Stacie Williams and her talk about labor and inclusion were particularly interesting to hear. The topic related very strongly to my work in graduate school that examined public libraries, inclusion, and underserved groups. It seemed like the perfect introduction to the DLF community and helped me reconcile my past experiences in graduate school with my more recent work in digital scholarship and research. This is something that I have struggled with because my personal research focused on underserved populations and access to digital resources, while my work at the University of Houston Libraries has centered on digital repositories and digital research support services. The DLF Forum has provided a useful intersection between these two aspects of my academic and professional experience.
The aforementioned connection has created a wonderful and profound sense of continuity for me. Given this sense of continuity, the Forum served as an excellent jumping off point for me to meet, interact with, and develop relationships with other library professionals working in similar positions. As I move forward in my career, I anticipate many opportunities to continue to connect with and exchange knowledge and best practices with these peers. I am truly grateful the opportunity to attend the DLF Forum, and to both share and learn with other professionals.