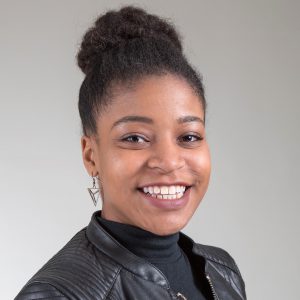 This reflection was provided by Camille Thomas (@Afrofuturistlib), Scholarly Communication Librarian at Texas Tech University Libraries. Camille attended the 2016 DLF Forum with support from a DLF Forum Fellowship for Students and New Professionals.
I was very glad to represent Texas Tech University Libraries as a new member of the Digital Library Federation at the 2016 Forum in Milwaukee, WI. I had never been to the midwest and enjoyed the location and venue for the conference. The support of the DLF fellowship for Early Career Professionals made it possible for me to attend. I am inspired by organizations like DLF and am working to get as much as I can out of professional development opportunities as my career begins.
I expected the forum to be highly technical and formal. The first thing I noticed about the Forum was how welcoming and open to participation it was. Secondly, I noticed that there was a mix of technical expertise and nontechnical ideation. It was great to have an environment for multiple emerging areas (digital scholarship, scholarly communication, archives, digital collections, user experience, metadata, etc. ) to meet. Often I don't get to see projects and professionals in areas adjacent to my own. They can get lost in the vastness of large conferences or limited by the specificity of highly specialized conferences.
I don't believe that a topic has to be tailored to my work to be relevant. I found ideas and creative approaches to problems that can be tweaked for my own work in scholarly communication as well as my institution. This included digital pedagogy, memorandums of understanding, copyright evaluation, user-centered processes and assessment of digital collections. So many things discussed at DLF overlap and facilitate broader communication between silos in libraries and other entities. It was a space that strived to be inclusive in terms of diversity as well. Stacie Williams' keynote "All Labor is Local" was especially apt because there are many considerations about our work we do not make outside defending its value. Also, as many people put it DLF was not just a place for "cheerleading" what we have done so far, but also putting insights from critical discourse into practice.
I enjoyed how open the discussions were to other perspectives, models and critique. DLF isn't a place where we could be found wringing our hands or griping. We questioned and explored. We were seeking solutions and new ground. In fact, I became ill during the conference and was disappointed that I couldn't participate actively for part of it. Usually, it is almost sufficient to follow a conference on social media, but I definitely felt I was missing out on the sessions I could not attend in person. Several others also mentioned putting down their devices in order to be more engaged.
I was happy to go to some sessions where the intricacy of projects went over my head too. It is easy to get caught up in the obstacles within the profession. Instead I felt inspired and optimistic about our future. It gave me something to aspire to as my career develops and information practices shift.