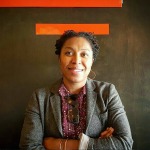 This reflection was provided by Stacy Williams (@stacywill1804), Head of the Helen Topping Architecture and Fine Arts Library at USC. Stacy attended the DLF Forum with support from a Kress+DLF Cross-Pollinator Fellowship. 

I attended DLF 2016 for the first time during what became a turning point in American political history. Despite how frightening the world suddenly became to me the week of DLF 2016, the conference was a positive reminder of the necessity of inclusiveness, community, flexibility, and transparency in our work as educators. I would be remiss if I did not mention the keynote of my name twin Stacie Williams and how it was a gentle reminder to me on the importance of care in our lives, honoring the labor of others, and acknowledging the invisible labor that allow many of our libraries and departments to function on the most basic level.

Other highlights of DLF 2016 were presentations that discussed user experience, minimal computing, community engagement, and incorporating digital humanities within class assignments. All are themes that I am currently exploring in my role as a subject librarian and as a general reference provider.

In a session on usability and user experience, presenters Cate Kompare and Erik Radio provided a snapshot of what planning a meaningful user experience needed. My takeaways were: do user research, be inclusive during the collaboration process, and always keep in mind the goals of your audience.

In the minimal computing in academic libraries session, the presenters gave an overview of what doing more with less entailed. For librarians like myself with soft skills, the case studies emphasized the importance of creating projects that are easy for people to read, access, and potentially replicate.

Power to the people discussed community engagement using personal digital archiving. Rachel Mattson talked about the work that the volunteer-led XFR Collective is doing to help artists and activists preserve their audiovisual media. Lauren Algee presented on the District of Columbia's Public Library Memory Lab. The library provides workshops on digital preservation 101, digital estate planning, and digital archiving to its community.

The session on digital humanities projects, 'How (And Why) Did They Make That?', a presentation by Melanie Hubbard on her collaboration with students from a digital humanities course spoke to me on many levels.  The Digital Watts Project incorporated library collections, community library materials, learning outcomes for the students, course readings, and assignments. It is a great example of how digital humanities projects can be incorporated into the classroom to create unique collaborative opportunities for everyone involved.

For sessions that I was unable to attend, I appreciate the repository of conference presentations that I can peruse during my spare time. I'm am very grateful for the opportunity to have attended DLF 2016 and look forward to what the conference planners have in store for DLF 2017!