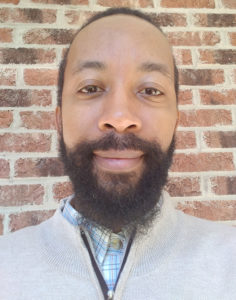 This post was written by Melde Rutledge (@MeldeRutledge), who was selected to be one of this year's virtual DLF Forum Community Journalists.
Melde Rutledge is the Digital Collections Librarian at Wake Forest University's Z. Smith Reynolds Library. He is responsible for leading the library's digitization services—primarily in support of ZSR's Special Collections and Archives, as well as providing support for university departments. 
He earned his MLIS from the University of North Carolina at Greensboro, and has served in librarianship for approximately 12 years. His background also includes 8 years of newspaper journalism, where he wrote news, sports, and feature articles for several locally published newspapers in North Carolina. 
He currently lives in Winston-Salem, NC, with his wife and three sons.
---
Since 2016, I've appreciated the opportunity to attend and participate in the annual DLF Forum. I look forward to the great takeaways to share with my colleagues back home. Let's also not forget the wonderful venues where the Forum takes place (Las Vegas, Tampa, etc.). Needless to say, a global pandemic emerged this year, resulting in the 2020 DLF Forum to occur virtually. 
As I reflect on this year's installment of the DLF Forum, it's difficult not to compare the Forum's first virtual event with the previous in-person gatherings—particularly in regards to size. The fact that the 2020 event had more than 2,000 registered participants is a testament to the popularity and value of DLF. Being that it also surpassed the overall in-person attendance record (just over 800 people) of the 2017 DLF Forum in Pittsburgh is also noteworthy.
The segment that I look forward to the most from the DLF Forums are the opening plenaries, because of its great keynote speakers. Stacey Patton provided an excellent talk highlighting the significance of preserving the black experience in galleries, libraries, archives, and museums (GLAMs)—covering several cohesive themes during her one-hour-plus speech—including the COVID-19 pandemic, hiring diverse staff in GLAMs, America's ongoing issue with racism, and the social and racial parallels of then and now. 
One of my key takeaways of her talk is spotlighting the need for institutions to be "ready and equipped" during the pandemic to educate students. This was suggested to be accomplished by providing research materials remotely, but also asking, "What difference does this make that we're digitizing things? How is this power to be used to protect documents when we may not know their importance? What about the digital divide and access to these materials?"
These indeed are very important thoughts to me, as a key role of my work is providing digital access to materials tucked away within our special collections and archives. And it was great that presenters addressed Patton's questions throughout the DLF sessions.
"'Can We Digitize This? Should We?'" Navigating Ethics, Law, and Policy in Bringing Collections to Digital Life" is a great example. This was presented by Stacy Reardon and Michael Lange from UC Berkeley Library. I was impressed with their Digital Lifecycle Program, and the ethical considerations embedded within their workflow. I have interest in seeing how institutions confront the issue regarding the digitization of materials of underprivileged groups, as well as how they approach the handling of culturally sensitive materials, accessibility, and appropriate metadata creation.
As Julie Hardesty pointed out in her presentation entitled, "Mitigating Bias Through Controlled Vocabularies," when working with metadata, you can become familiar with several widely used controlled vocabularies. However, working with large common vocabularies can "paint broad strokes that cover up more than they should, that generalize or simplify too much, and show the biases of dominant groups such as the white male viewpoint. Additionally, the process to change and update terms can be slow to keep up."
When I listen to presentations on this theme, speakers routinely note the value of incorporating community engagement. A nice example of this was shared during the presentation, "Curationist: Designing a Metadata Standard and Taxonomy for an Open Cultural Ecosystem." Curationist.org is a site that finds and collects important cultural and historical resources that are within the public domain. As explained by presenter Sharon Mizota, community users will be able to include their own metadata to records on this site. 
Overall, I salute all the organizers and presenters for producing an impressive 2020 DLF program. And kudos to the partnership between CLIR/DLF and the HBCU Library Alliance. As an HBCU graduate, I appreciate programming that covers how HBCUs approach digitization, and the stories behind the unique materials that are digitally preserved, especially amid the COVID-19 pandemic. COVID-19 is indeed a big factor in how many of us in this profession are conducting decision making. The wealth of relevant content in this year's DLF was very timely in this regard.