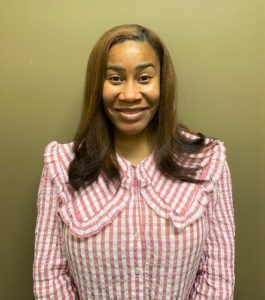 This post was written by Ericka Dudley, who was selected to be one of this year's DLF Forum Community Journalists.
Ericka L. Dudley is currently an Access Services Humanities Librarian at Alabama State University, located in Montgomery, AL. Prior to this position, Ms. Dudley held positions as a first-grade teacher and library media specialist in the K-5 setting. Ms. Dudley earned her Library Media certification from The University of West Alabama and her MLIS degree from the University of Alabama. Ms. Dudley is truly a lifelong learner, where she is currently pursuing an Archival Studies degree from Clayton State University in Morrow, Georgia. In addition, she has an interest in genealogy, outreach, and technology. Her future goal is to one day become a digital archivist.
---
The Digital Library Federation (DLF) Forum was a fantastic event to participate in. This was my first time participating in the DLF Forum, and I was pleasantly intrigued by the schedule of events this year. In addition, an archival colleague sent me an email that provided me with information on where I could apply and become a DLF Forum Community Journalist, register, and view scheduled sessions at no cost, which made my experience even better. I did not know what to expect, but I found that the session offerings were engaging, covered diverse topics, and provided sessions for everyone to select from, such as topics about unheard voices and Tribal archives. On the first day, the first session I viewed was "1619 to 2021: A Black Journalist Turns the Light of Truth on the History of American Race". The keynote speakers were Nikole Hannah-Jones and Dr. Stacey Patton. The beginning question that made me reflect was, "Do Black Lives Matter in the Galleries, Libraries, Archives, and Museums (GLAMS)?" I had never heard of that question prior to attending the forum, but it did make me think.
I have always wondered why I have not seen others who look like me in more positions in museums, libraries, or archives that are viewed as role models or mentors where I currently reside. How does one advocate and get the message out individually that there needs to be more diversity in the GLAMS? I was glad to see presenters speak on Black History and the records that tell these stories during the forum, but I also asked myself how many speakers looked like me? What is the reasoning behind this? What can I do on my end to change this? With so much taking place in today's society, I enjoyed listening to Nikole Hannah-Jones. She also spoke on the importance of speaking up for what is accurate and using archival resources to teach and learn from. Even though she is a journalist, it opened my eyes more to awareness and education.
It also reminded me of an article I read for a class discussion where William Henry Dorsey, a nineteenth-century African American collector, and archivist in Philadelphia, was known to have "archive fever." He believed that the news and history of those that looked like him mattered enough for him to clip out news articles and collect them in handmade scrapbooks, along with manuscripts, pamphlets, and publications. The records were significant because Dorsey believed they were, and we all have to view digital content that can be preserved the same way regardless of who made the records. The DLF Forum helped me realize that I should participate more in forums and conferences, which can assist me with learning valuable information. In addition, it would help me spread the news of what I have learned in the form of outreach, allowing me to let others know that the only way to get specific messages out for others to know about is to speak on those matters of importance. I am very appreciative of DLF for sponsoring me to attend this year's Forum. I have shared my experience with my librarian and archival colleagues, and I hope to encourage many of my peers to participate during next year's Forum.