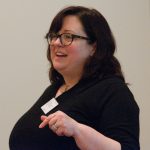 This Community Spotlight was provided by Sarah Shreeves, Associate Professor, University Library, University of Illinois at Urbana-Champaign.
In January 2011, prompted by the NSF requirement that all grant proposals include a data management plan (DMP) and inspired by the Digital Curation Centre's DMP Online tool in the United Kingdom, a small group of institutions and organizations (including the following members of the Digital Library Federation: California Digital Library, the Smithsonian Institution, UCLA, UCSD, UIUC, and UVA) came together to develop a web based tool which would guide users through the process of creating a DMP for a range of funders, allows users to edit, save, share, print, and download their data management plans. Released in October 2011, the DMPTool also allows institutions to customize the guidance and help text provided to their researchers via integration with Shibboleth.
From October 2011 through June 2013, the DMPTool has seen:
4943 plans created.
Over 5000 unique users IDs.
20 funder requirements supported.
95 institutions who have implemented access to the DMPTool via Shibboleth.
37 institutions who have customized the DMPTool to provide specific guidance to their researchers.
In October 2012 the Institute of Museum and Library Services funded the development of outreach materials and strategies for the DMPTool. Coming out of this effort has been a very successful webinar series (http://blog.dmptool.org/webinar-series/) as well as outreach materials (http://bitbucket.org/dmptool/main/wiki/Materials) and collation of data management planning resources (https://bitbucket.org/dmptool/main/wiki/Resources).
DMPTool2
In January 2013, the DMPTool team received a generous grant from the Alfred P. Sloan Foundation to further develop the DMPTool and to engage the stakeholder communities – researchers, libraries, institutions, and funders – in the development and use of the tool. This has been the major focus for the DMPTool since January, and we want to highlight here some of the functionality that we are building into the DMPTool2.
In the DMPTool2, researchers will be able to:
Create, update, delete, or retract (once public) plans
Create a plan by copying an existing plan
Include collaborators on plans
Share plans with specific group or with public
Send plans to be reviewed
Export plans
In the DMPTool2, institutions will be able to:
Brand the tool
Create their own requirements template (e.g. for a locally required DMP)
Add and edit resources directly to the tool
Require plans to be reviewed
Review plans
Export all DMPs for data mining purposes
The DMPTool2 will also include an API that will allow integration with other research support systems, and we're very interested in hearing about use cases for this functionality!
The DMPTool2 will have a beta release for the DLF Forum in November 2013 and is aiming for its production release in early 2014.
To see the current functional requirements document that the team is working with, please see https://bitbucket.org/dmptool/main/downloads/DMPT2-requirements-v12.pdf.
How to Get Involved
Would you like to get more involved with the DMPTool? Interested in the Shibboleth integration (which is very straightforward!)? Interested in a closer partnership? Please see How Institutions Can Get Involved at https://bitbucket.org/dmptool/main/wiki/Home.
Key Links