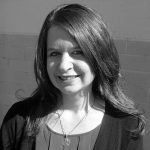 This Contribute was provided by Sumitra Duncan (@artlibrariannyc), NYARC Web Archiving Coordinator at the Frick Art Reference Library.
The New York Art Resources Consortium (NYARC), which consists of the libraries and archives of the Brooklyn Museum, The Frick Collection, and The Museum of Modern Art, is pleased to share results of a recently completed two-year grant from The Andrew W. Mellon Foundation. The 2013-2015 grant, "Making the Black Hole Gray: Implementing the Web Archiving of Specialist Art Resources," supported NYARC's member institutions in initiating a collaborative program of web archiving. The implementation grant followed an earlier pilot study, which demonstrated that the types of materials the NYARC libraries had been collecting in print were increasingly being created in formats made available exclusively on the web. The study concluded that there was an urgent need to document the dynamic web-based versions of auction catalogs, catalogues raisonnés, and scholarly research projects, as well as artist, gallery, and art dealer websites, in order to prevent a "digital black hole" in the art historical record.
NYARC's libraries have been working incrementally to address the inherent challenges of the digital transition, actively expanding our web archive collections and developing workflows for administering our collaborative program. NYARC primarily utilizes the Archive-It subscription-service to build and manage our web archive collections. This initiative has become increasingly important for NYARC and we are now archiving over 275 websites across ten collections, which are publicly available online: www.nyarc.org/webarchive
Websites of scholarly value are selected and nominated for inclusion in the consortium's ten curated Archive-It collections, each of which is aligned with the collecting objectives and strengths of the three NYARC libraries. NYARC's Archive-It collections presently encompass:
NYARC institutional websites

Brooklyn Museum (brooklynmuseum.org)
The Frick Collection (frick.org)
The Museum of Modern Art (moma.org)
NYARC (nyarc.org)

Scholarly art resources deemed at risk of impermanence
Artists' websites
Auction houses
Catalogues raisonnés
New York City galleries and art dealers
Scholarship for the restitution of lost or looted art
Like many existing web archiving initiatives, NYARC's life cycle for our web archiving program begins with collection development, curation, and administration, and spans from harvesting and quality assurance, to preservation, long-term storage, and description and access. The role of the curator in web archiving is essential in our view, as it's significant that we are able to retain all elements of born-digital resources for our collections – inclusive of the behavior/functionality, visual appearance, and embedded content of a website. That hasn't been the easiest to tackle, but we have developed quality assurance practices for the consortium that have improved our web captures.

Our interest is not in building hidden collections, but rather to work within the consortium, and with the greater community, to enable wide access to these resources. NYARC creates bibliographic records for all sites being archived, which are available via ARCADE, our collective OPAC, and through WorldCat. As part of our recent implementation grant, we are also promoting access to our Archive-It collections through a new discovery layer, called NYARC Discovery. Our implementation of the Primo discovery product allows researchers to search the full-text of our web archive collections in concert with all of NYARC's other holdings, all within one search interface. To our knowledge, this is the first implementation to unite Archive-It search results in this way.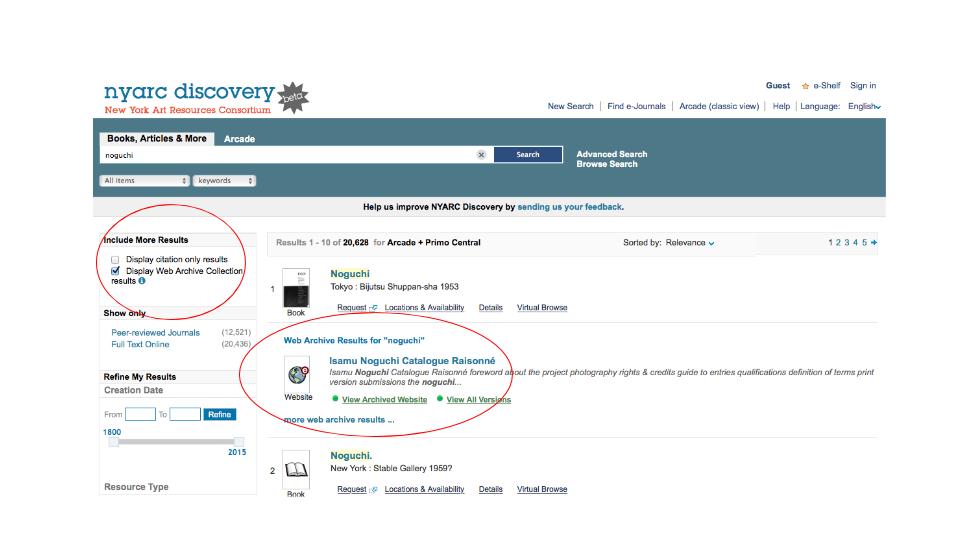 NYARC is committed to sustaining our web archiving program in the future and we will continue to build, maintain, preserve, and promote access to our existing collections. There remains far too much content being produced on the web for any sole entity to be responsible for even one categorical piece. NYARC is continuing to seek out new opportunities to foster collaboration geared to preserving and cultivating access points to born-digital art research materials.
We are also interested in understanding more about the use of these collections and in engaging our users to understand the unique challenges and opportunities of web archive collections in the domain of art history. There is presently great potential to use NYARC's collections for data and trend analysis in art historical research. In the future, scholars will be able to reference rich collections containing sites that have perhaps disappeared from the live web. We have already found that several of the art galleries included in our collections, such as McKee Gallery and WALLSPACE gallery, have ceased their operations and are no longer updating their websites
To learn more about the web archiving program at NYARC, please review our documentation, visit our program website, and browse our Archive-It collections.