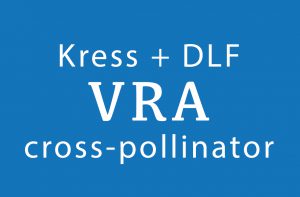 DLF and the Kress Foundation are pleased to announce the latest award in the GLAM Cross-Pollinator Fellowship series, which will send DLF affiliate Alyssa Loera to the annual conference of the Visual Resources Association (VRA).  The fellowship will include conference registration thanks to a partnership with the VRA.
From Alyssa: I work as a Digitization Projects Coordinator at the UCLA Library, specifically within Imaging Services. A large portion of what I do involves balancing multiple digitization projects, questioning and implementing best practices, forming efficient workflows that allow projects to move forward, and participating fully in the UCLA Library community. I am an active member of the Los Angeles Archivists Collective, and a native Californian. The intention of my work is to assist in the stewardship of cultural heritage materials using digital services as a platform to promote access, preservation and interaction with materials. 
Find her on Twitter at @_AVloera_.
Applications are still being accepted for the final Cross-Pollinator Fellowship in the series, sending a DLF-affiliated professional to the annual Association of Conservators (AIC) meeting. Deadline: March 1