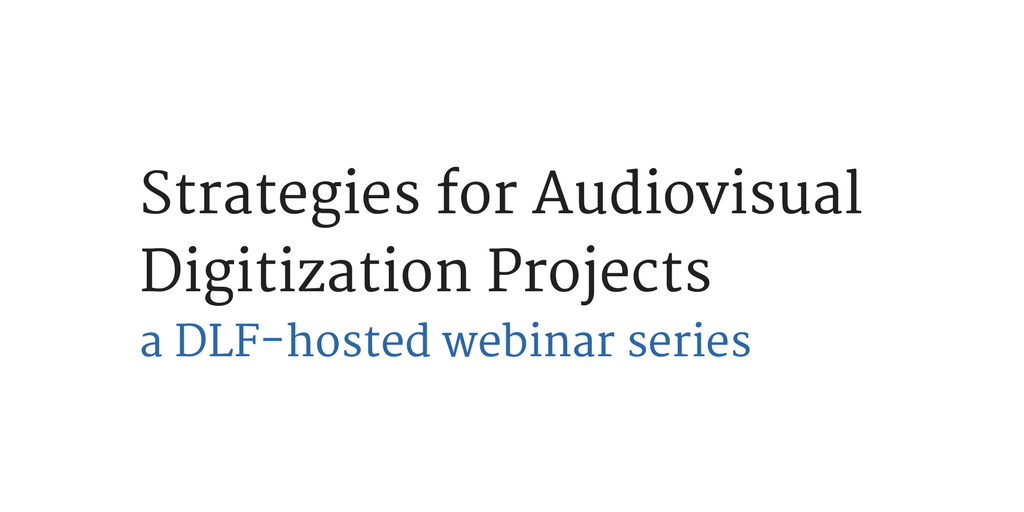 In the summer of 2017, the Digital Library Federation hosted Strategies for Audiovisual Digitization Projects, a free two-part webinar series that discussed multiple approaches that cultural memory institutions can take to digitally reformat audiovisual materials and collections. Information and recordings are available below.
Effective Outsourcing with Audiovisual Digitization Service Providers
Wednesday, June 14, 2017 | 2:00 – 3:00 PM ET
Recording | Transcript | Slides
Unsure of what a/v digitization services are out there? Having trouble composing RFPs? Representatives from a variety of audiovisual digitization service providers are here to answer your questions, discuss common hurdles faced by institutions, and hear input on how best to partner with libraries, museums, and archives.
Speakers: Jan Jones (Memnon Archiving Services); Kathy O'Regan (Bay Area Video Coalition); Bryce Roe (Northeast Document Conservation Center); Bob Strauss (The MediaPreserve)
Moderator: Wayne Graham (Council on Library and Information Resources)
Low-Cost, DIY, and Community-Based Approaches to Audiovisual Digitization
Wednesday, June 21, 2017 | 2:00 – 3:00 PM ET
Recording | Transcript | Slides
Interested in digitizing small batches in-house? Adding a/v digitization to personal archiving services used by your community? Speakers will discuss a variety of tools, strategies, and organizations that are focused on creating broader access to resources needed for audiovisual digitization projects, and will provide guidance on how best to implement your own audiovisual digitization program.
Speakers: Lauren Algee (DCPL Memory Lab); Rachel Mattson (XFR Collective); Dorothea Salo (RADD/PROUD/PRAVDA); Pamela Vadakan (California Audiovisual Preservation Project)
Moderator: Brooke Sansosti (Carnegie Library of Pittsburgh)
Questions about the series? Please contact us.