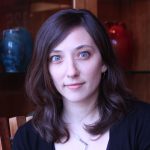 This Forum Update was provided by Emily Guhde, Online Services Librarian, NC LIVE.
My inspiration to attend the DLF Forum started last March when I saw a YouTube video of a panda-robot-oncologist. As NYU's Health Sciences librarians demonstrate in their data management horror story, researchers are facing some major hurdles for documenting, preserving, and sharing their data. After watching this panda-robot-oncologist become increasingly frustrated with her colleague's poor data management skills, I was hooked and ready to help. Researchers have a problem? Librarians can fix it? Count me in! All librarians, and I'm using Bonnie Tijerina's broad definition of "librarian" here, have probably chased that warm and fuzzy feeling of public service. Personally, it's one of the reasons I got into this business.
After the panda-robot-oncologist video, I spent the next several months learning about research data management plans and policies, third-party storage solutions, and discipline-specific metadata schema. And then, thanks to the ER&L + DLF Cross-Pollinator Travel Award, I attended the Forum to learn directly from professionals who support the technology, write the policies and guide the process of research data management at their institutions. But what I learned at the Forum is that wrangling research data isn't just a problem of technology, policy or work-flows. It's a problem of perspective.
Researchers are reluctant to document, store and share their data for many reasons, not all of which are technical. Among those I heard discussed at the Forum are concerns about researchers getting credit for their data, about wasting their time on non-research activities, about other researchers publishing with their data, and about their data being misused or misinterpreted. I suspect that these concerns stem from traditional models of academic promotion and publication, and while those models are slowly evolving to reflect our digital reality, we're not there yet.
To consider solutions for research data management that speak directly to researchers' concerns, I'll be leaning on my big take-away from the Forum – that collaboration and communication are at the core of librarianship (again, in the broadest sense of that term). Not only were these the underlying themes in almost every session that I attended at the Forum, but the Forum itself creates a culture of sharing and openness. By bringing that spirit to research data management, we can build services that tackle the technical challenges of managing data responsibly while promoting the interests of our academic communities.
How's that for warm and fuzzy?