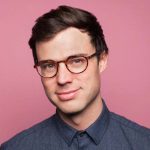 This conference report was provided by Scott W. H. Young, Digital Initiatives Librarian at Montana State University.

It's been just about a month now since the conclusion of the second annual DPLAfest in Indianapolis, where about 300 people gathered to discuss the current and future state of digital collections and digital publishing. Those in attendance included librarians, archivists, publishers, authors, developers, and other interested members of the community. My own participation at the conference was generously made possible by a DPLA + DLF Cross-Pollinator Travel Grant, which allowed me share with and learn from DPLA community during the two-day event.
Put simply, my time at the DPLAfest was inspiring, based largely on my interactions with the DPLA community, which I found to be vibrant, welcoming, ingenious and altogether energizing. A fellow travel grant recipient, Laura Wrubel, has recently written on her own experiences at the conference. In her post, Laura identified a tangible excitement and a feeling of momentum that accompanied the conference, and I must agree wholeheartedly. An unmistakable atmosphere of positivity and possibility flowed through the conference and its attendees. Allow me to share an example.
My participation in the conference revolved mainly around the hackathon. On the first day of the conference, a large group of attendees learned how to access the DPLA API, and from there we split into smaller groups to discuss possible app ideas. My fellow brainstormers in this process included Alexandra Murray, Laura Wrubel, and Brandon Locke. The four of us were mostly DPLA newcomers, and were attending the conference in an exploratory mode. Even with our status as novices, however, we were received as a peers into the DPLA community. As we talked through app ideas among each other and with the larger group, the support we received from DPLA community members was immediate and enthusiastic. DPLA staff Audrey Altman, Mark Breedlove, Mark Matienzo, and Tom Johnson were all on hand to provide direction and feedback as we worked first through ideas and then through code.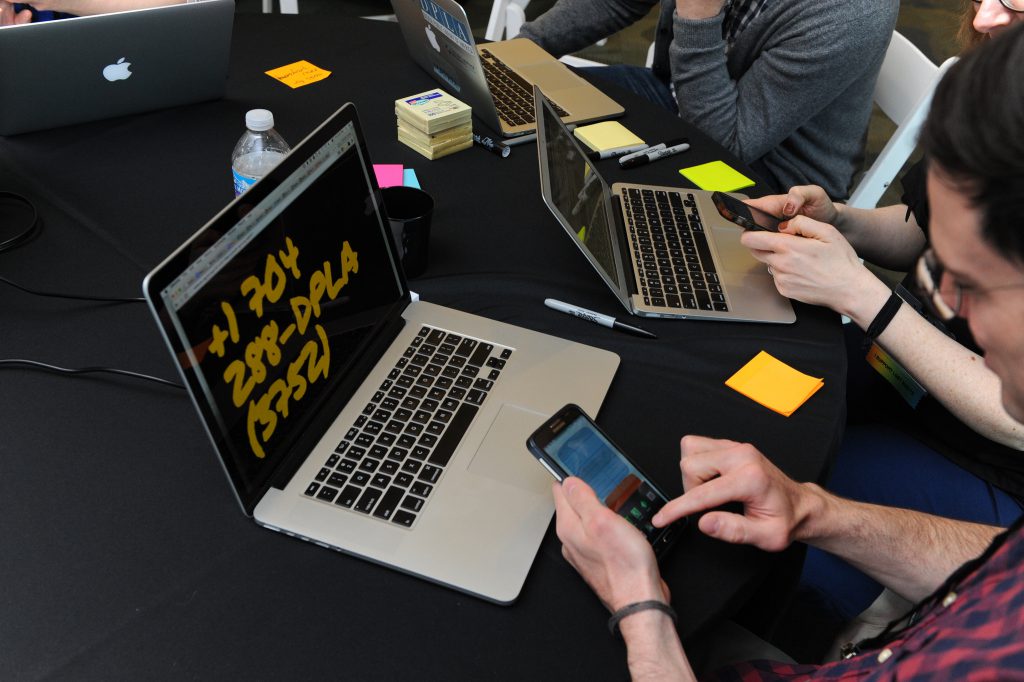 Inspired by Historical Cats, Mark Matienzo's Dial-a-DPLA, and the encouragement we received from others in the room, we aimed to create a Twitter-based app that could serve as a whimsical window into the DPLA collection. Borrowing from Mark Sample's DPLAbot, we reconfigured some nifty Node.js code so that our new bot matched food terms with DPLA metadata and produced Tweets that encouraged hungry Twitter users to take a look at food-related items in the DPLA collection. We dubbed this little program "DinnerPLAnsbot." The final app would not have been possible without some well-timed and much-needed JavaScript assistance from Chad Nelson in the final few moments before we unveiled DinnerPLAnsbot at the Developer Showcase on the second day of the conference. At every turn during the DPLAfest, I felt the support of a talented and thoughtful community that wanted to help us build with the DPLA collection.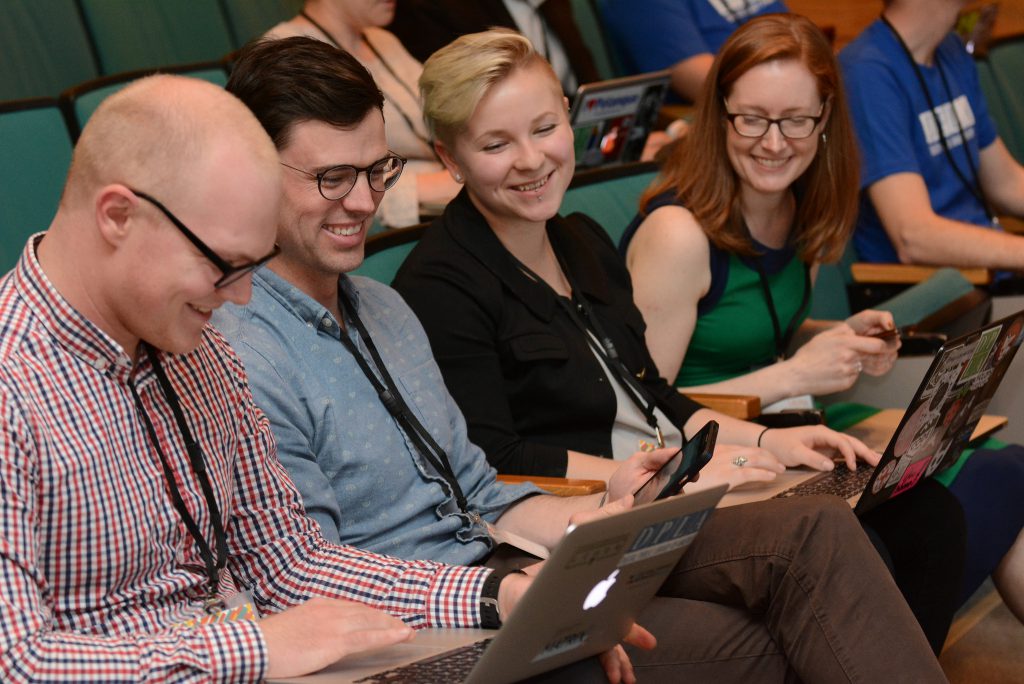 In thinking back to when I first learned of the DPLA, the earliest experience I could recall was the Fall 2013 meeting of the Coalition of Networked Information, where I attended a presentation by Dan Cohen. The DPLA was a mere 8 months into its existence at that time, and I remember being impressed not only with its mission and vision, but also the sticker on Dan's laptop: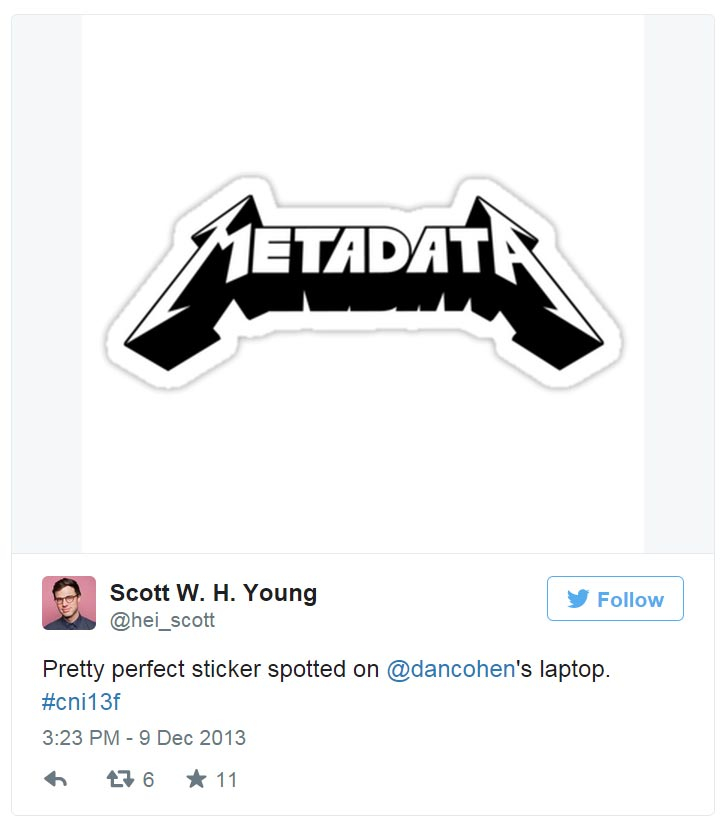 In the 16 months since, the DPLA has grown into a fully-realized digital library platform that now provides access to over 10,000,000 metadata-rich records from over 1,600 contributing institutions, and with a killer API to boot. With such a diverse number of digital objects, a vibrant, supportive community, and a forward-thinking vision for digital collections and digital services, the DPLA represents a spirit of creative exploration (demonstrated nicely in the DPLA App Library).
A query of the DPLA API shows that my institution, Montana State University Library, has so far contributed 1,632 records to the DPLA through the Mountain West Digital Library. We plan to increase our contribution by several more thousand records over the next several months, including records from the Acoustic Atlas, our newly-formed collection of natural sound recordings from the American West. My participation in the DPLAfest has served to strengthen my own interest and motivation for exploring, building, and creating with digital library objects, and I am now even more excited to see the DPLA's collection and community continue to grow and strengthen.