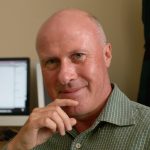 This Contribute post was provided by Michael Twidale, Director of the MS/IM degree and Professor of Graduate School of Library and Information Science at University of Illinois at Urbana-Champaign.
We at GSLIS are very proud of our top-ranked MS in library and information science (MS/LIS). It continues to grow and evolve as we aim to meet the needs of the information professions in general and librarianship in particular.
[pullquote1 align="left"]Creating a new degree is an exhilarating (and daunting!) undertaking.[/pullquote1] But we want to do more. We recently launched a new degree program, the MS in information management (MS/IM). This degree, which complements our existing, well-established MS/LIS degree, will bring the culture and values of librarianship to more information professions and settings. Although the two degrees differ in emphasis, both provide students with skills for effectively managing, analyzing, and preserving information to benefit society, and both degrees reflect our values and ethic of service.
Creating a new degree is an exhilarating (and daunting!) undertaking. It allows us to make use of our skills in information seeking, user experience design, pedagogy, design thinking, community building, and storytelling in interesting ways. It is still a work in progress, and of course the work never ends.
We hope to recruit many more students to the information professions. There is a great need in society for people who have the skills to address the intersection of people, information, and technology. Given the rapid change of technological innovation, we want to educate our graduates to stand out as innovative, adaptable "quick studies" who can assess information needs and integrate effective solutions in the workplace.
Our goal is to prepare future leaders who will develop services and systems to meet human information needs in a range of employment sectors: for-profit, nonprofit, education, and government. The MS/IM degree is designed to meet the demand for well-prepared information professionals who are skilled in using, managing, analyzing, and distributing information. We want our MS/IM graduates to lead the way in wielding the world's growing information resources for the greater good.
We tell our students that "in real life, nearly all work is a group project," which often includes working in a team with people who are different from you. The team[pullquote1 align="right"]In sharing this post with a community that has pioneered innovation around digital libraries, I welcome any ideas that you may have.[/pullquote1]may be deliberately assembled to encompass a range of different outlooks, experiences, and kinds of expertise. When it works, this can be a fabulous way of tackling hard problems, but it can be challenging to work effectively with people who think and work differently, analyze problems differently, use different approaches, and have different worldviews. We plan to create graduates who embrace the challenge of working with diverse groups and serve as effective team members—acting as an information intermediary, being a facilitator, and enabling easier and better access to information—while contributing technical analytic and design skills.
The MS/IM curriculum offers four professional pathways: data science and analytics; privacy, trust, security, and ethics; information architecture and design; and knowledge management and information consulting. Within each pathway, there is a range of suggested courses. After selecting a pathway, students can work in coordination with an advisor to choose a combination of elective courses and customize the program to build on their existing skills and expertise. Throughout this process, our goal is to develop "T-shaped" expertise: in-depth focus on a particular set of knowledge, skills, and concepts coupled with a broader appreciation of a specialization that fits into a larger context. Big data without the big picture is a recipe for big mistakes.
In sharing this post with a community that has pioneered innovation around digital libraries, I welcome any ideas that you may have regarding courses, experiences, etc. It is much easier to innovate when a degree is still new, and our aim is to be flexible and creative in the opportunities we provide to our students. We want to enable versatility and encourage professional growth, so that students can build on their strengths and be ready to address information-related challenges.
If you have any comments or suggestions, please email me at gslis-infomanagement@illinois.edu. Learn more about the MS/IM program at http://www.lis.illinois.edu/academics/degrees/msim.