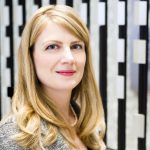 Louisa Kwasigroch, Director of Development & Outreach
Digital Library Federation + Council on Library and Information Resources
In the past five years the DLF has gone from a closed program to an open, welcoming organization committed to serving the digital library, archive, and museum communities. Liberal arts colleges are a vibrant and growing community of practice within the DLF. In 2013, we partnered with Lafayette College to host a meeting on Liberal Arts Colleges and Digital Scholarship Services. The following year, several sessions at the 2014 Forum in Atlanta focused on the challenges and opportunities for digital libraries in liberal arts settings.
Our goal is for DLF and the Forum to be the home of liberal arts college digital library practitioners. Last year we implemented a new reduced membership rate for liberal arts colleges with great success — there are now 18 liberal arts institution members. We are pleased to be hosting the first annual DLF Liberal Arts Colleges Preconference preceding the 2015 Forum, and plan to co-locate the two events going forward.
[pullquote2 align="center" variation="blue" cite="Haverford College"]"We would urge institutions considering membership in the DLF, particularly Liberal Arts Colleges, to join! It is an important way to keep your finger on the pulse of emerging digital scholarship trends and best practices."[/pullquote2]
Find out why Haverford joined DLF in this blog post from our Contribute series.
We know the DLF can do more to understand and support our liberal arts college digital library colleagues. We want to hear directly from the community about what is needed, what topics you would like to explore, and the specific challenges and opportunities of liberal arts college digital libraries. In short, how can we help?
As we move forward in supporting and connecting with the liberal arts college community, we want to keep a dialogue open and discussions ongoing. We welcome your suggestions about how we can support the liberal arts digital library community. Please contact me so we can discuss!
For more information about joining DLF, visit our membership page.