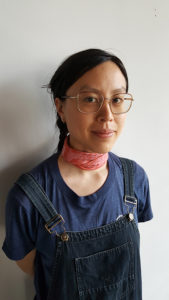 This post was written by Sarah Nguyen, who received a Students & New Professionals Fellowship to attend this year's DLF Forum.
Sarah (@snewyuen) is an advocate for open, accessible, and secure technologies. While studying as a Master of Library and Information Science candidate at the University of Washington iSchool, she is expressing research interests through a few gigs: Project Coordinator for Preserve This Podcast at METRO, AssistantResearch Scientist for Investigating & Archiving the Scholarly Git Experience at NYU Libraries, Instructional Design Technologist at CUNY City Tech Open Education Resources Program, and Archivist for the Dance Heritage Coalition/Mark Morris Dance Group. Offline, she can be found riding a Cannondale mtb or practicing movement through dance.
---
DLF Forum 2019 took place during a lucky (questionable climate changing) pocket where hurricane season left and sunny Tampa, FL welcomed us onto the Seminole and Tocobaga lands—it reminded me of the Saved by the Bell: Palm Springs Weekend (1991) set.
[googleapps domain="drive" dir="file/d/1G24yAmnvHQ_t4VoHniT1A3qEsdMddHnj/preview" query="" width="640″ height="480″ /]
The view from outside of the DLF Forum Conference Hotel. Taken by me.
I joined my first Forum as a DLF Student & New Professional Fellow, and I left with new perspectives to explore. The range of topics ranged widely, but there were three sessions that encompassed a theme that stood out to me, which I will highlight in this #DLFForum recap post.
As a current MLIS student, where do I fit in, what can I make of this, and what can the field offer to me when I graduate, is what keeps me up at night. For me, the week started off with the tone that Dr. Marisa Duarte set during her opening plenary, "Beautiful Data: Justice, Code, and Architectures of the Sublime" (shared notes). She told us about her journey in and out of LIS and about her advocacy on algorithmically-delivered data, its effects on society, justice, and how libraries  have the knowledge and social power to do "reflexive justice work". Duarte emphasized how we, as trained and/or degree'd information professionals, can educate our diverse population about digital biases and spread awareness on how to approach today's "pan-capitalist algorithmic domination." Duarte's keynote touched farther than basic proactive equity, diversity, and inclusion (EDI) efforts, but how exposing the truth of current digital environments is an intentional practice that will not happen overnight. Her realistic but optimistic attitude toward digital librarianship gave me a better idea on how I'd like to represent and convey my digital library practices into the future.
Later that morning, I attended "I'm not an archivist, but…": Working "Archives-Adjacent" to Transcend Traditional Library Roles" (slides & #m1c tweets), a panel of trained archivists, Dinah Handel, Monique Lassere, Jenna Freedman, Mary Kidd, and Stefanie Ramsay, who do not touch the actual objects but keep other archive operations lifelines well-oiled: systems and operation coordination, digitization service management, digital project librarianship, and communication (respectively). This panel brought me back to Duarte's message about the power that librarians have in conveying accessible digital infrastructures amongst Big Tech products, or in this panel's case, within the bureaucracy of the ivory towers. It's not only just building an unbiased database, but also receiving the proper credit for the undefined, immeasurable, extra-mile they contribute to the archives. There's a person behind that database infrastructure, that GitHub pull request, and those need to be acknowledged to equitable standards as other traditional archives positions (Mirza & Seale, 2017). I would be remiss to mention how the interactive slides were the best and that further demonstrates how much creative care these archives-adjacent colleagues put into their daily work:
[googleapps domain="drive" dir="file/d/1n0mCT7uBH1pICKgRHjhALVBQj9HY3gBY/preview" query="" width="640″ height="480″ /]
A slide with a spinning card from Mary Kidd's presentation. Taken by me.
On the last morning, Chela Scott-Weber's portion of #w1d: "The Story Disrupted: Memory Institutions and Born Digital Collecting" (shared notes & #w1d tweets) resonated with me. She emphasized "we have been and are collecting reactively within systems of traditionally white institutions. Consider power models, think less about format specific collections and build proactive, collaborative practices around community, people, and phenomena." Her push for EDI representation in born-digital collections made me proud to be starting my professional experiences with projects centered around the community of born-digital creators, instead of putting the collectors' admiration desires first.