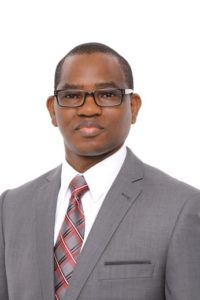 This post was written by Doyin Adenuga, who received a Focus Fellowship to attend this year's DLF Forum.
Doyin has an MLIS degree from the University of British Columbia (UBC), Canada, and has been a librarian for four years. He has spent ten years in computer/systems support in Nigeria, as well as five years as technology coordinator/assistant editor at a textbook publishing center at the University of Wisconsin-Madison, where he became interested in providing support to users of information. He is interested primarily in the world of digital librarianship. Doyin started his library career during iSchool @ UBC co-op term as DSpace Cataloguer, and is currently the Electronic Resources Librarian at Houghton College, where he has installed and maintains a DSpace system. The public interface of DSpace @ Houghton College only provides searching and browsing of its multiple collections, while other features of this institutional repository system are disabled. You can find him on Twitter at @nugadoy.
---
I thank the 2019 Digital Library Federation (DLF) Forum committee for the honor of being selected as one of the fellows and being fully sponsored to attend the Forum. I have attended a number of library meetings and conferences but not one focused on digital library, and I appreciate the opportunity. Though the DLF Forum brings together specifically digital library professionals, I will encourage everyone in any area of information profession to attend at least one DLF forum.
The two areas that drew my interest even before the forum were sessions on open source repository solutions (other than DSpace) and privacy concerns with digital collections. I attended the session "Samvera – Sustainable Digital Repository Solutions & Community of Practice" (https://dlfforum2019.sched.com/event/S2U7/m1d-samvera-sustainable-digital-repository-solutions-community-of-practice) and was intrigued by what Samvera has to offer, such as its digital object viewer option. The need for digitization of institutional records to "advancing research, learning, social justice, & the public good" (https://www.diglib.org/about/) increases and having options for open digital library solutions will surely help. The presenters rightly said that "no one system fits all," but with the limited time for the presentation, I became interested in investigating Samvera further.
As much work is put in setting up a digital repository system, so also much more attention is needed for continuous privacy concerns of its digital contents. The three presentations at the "privacy" (https://dlfforum2019.sched.com/event/S2X4/w1c-privacy ) session gave practical examples of handling privacy concerns and how the issues that arose were handled professionally. I would summarize this session into these three areas: pre-archiving privacy concerns and institutional workflows intended to minimize them, post-archiving scenarios and actions taken to resolve them, and privacy pedagogy at the institutional level.
Finally, the Forum gave me the opportunity to connect with other information professionals, some of the DLF working groups, and a locally based digital humanity group, which I otherwise might not have known existed, and I am really grateful.