This sponsor update is by Euan Adie, Founder, Altmetric.

Scholarly discussions migrate to the web
We're Altmetric, a service that collects and measures the online attention paid to scholarly papers. The web is being used by specialists and non-specialists alike to discover, disseminate, and discuss new scholarly content. We make it our mission to capture all of this attention.
Looking beyond citation counts
We think it's useful to look at research impact at the article level, not just at the journal level. That's why we compile article-level metrics, which can be used by publishers, funders, institutions, and researchers to help gauge how much attention their papers have received.
More important than the metrics we generate are the actual data. Since we track online services that are used by both scholars and members of the general public, you can learn a lot about how a piece of research is being discussed outside of academia by reading through the highlights we collect. Social media posts, detailed discourse on blogs, and press coverage can tell you a lot about immediate uptake; Faculty of 1000 reviews and cites in policy documents are useful indicators of long-term influence. Combining all this with traditional citation-based measures gives you a fuller picture of article impact.
By looking beyond citation counts, we can help you find meaningful, actionable evidence of societal impact. We want to capture the practical or public impact of the papers that you or your researchers produce.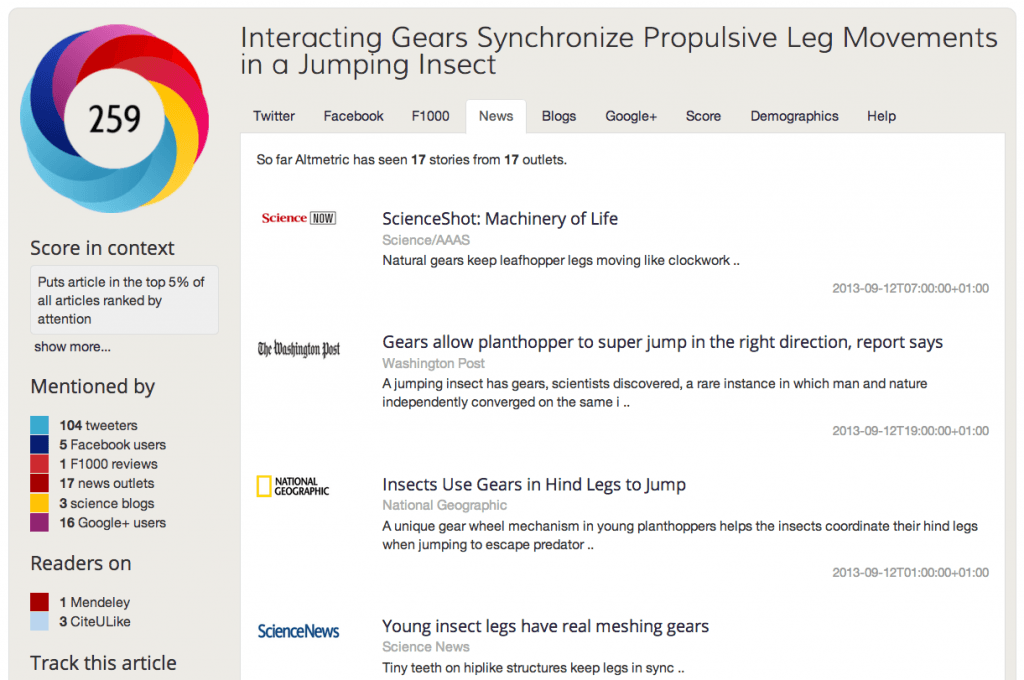 Working better for libraries and institutions
So far, we've worked mainly with scholarly publishers, including Nature Publishing Group, Cell Press, and Springer, but we've also been supportive of institutions. In January 2013, we opened up our services for free to university libraries and institutional repositories. Since then, we've started a fantastic dialogue with librarians about ways in which article-level metrics might benefit institutions.
We want to invite input from all of our institutional users to show us how they want to shape the practical use of article-level metrics in the future. We see great potential for article-level metrics to be used in institutions, but we want to hear what you think. How can attention metrics be refined? What other sources of attention are worth measuring? Who will find article-level metrics useful in an institutional context? We're excited to continue the discussion with delegates at the DLF, so please drop by our Community Idea Exchange poster during the Forum and have a chat with us.