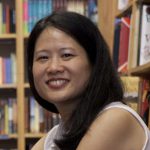 This Forum Report was provided by Christina Chan-Park, Science Librarian, Baylor University & a 2013 ARL/DLF Underrepresented Groups Fellow.
I have been to my fair share of conferences over the years as a graduate student, a professor, and a recruiter, but I'm still a novice at attending conferences as a librarian. I tend to find conferences overwhelming (one reason I have yet to attend an ALA) with all the information I expect myself to absorb in such a short amount of time. To take the pressure off myself, I have to remind myself that I'm learning about things I can do in the future not about things I must do in the future. And I did learn a lot at the DLF Forum both about digital libraries and (mostly) about myself. Here are some of the highlights of things that I learned.
Right before I came to the forum, I was working on my promotion notebook and had spent a fair amount of time thinking about my purpose/role as a librarian. I decided that my job was to equip others with tools and skills to help them understand and navigate the current research environment. It was affirming that some of the points David Lankes made in his keynote address seem to support this view of librarianship.
I also realized that after I make a presentation I shouldn't bother attending the next session or two. Once I come down from the adrenalin high, I find it very hard to concentrate. But on the upside, our presentation was well attended and well received, and we were encouraged to develop it into a paper.
One of the tasks on my to-do list when I came back from the forum was to work on the customization of CDL's DMPTool which our institution just joined in October. After attending the session on DMPTool2, I'm glad I hadn't started on the customization since the tool will be changing in February. But I now know what I'll be doing in January.
Even though I'm trained as a scientist, I really enjoy learning about different digital humanities project. Maybe because each of the collections is so unique, I don't feel any pressure to incorporate what they've done into any of my projects. Or maybe (and more likely) because each of the collections is so unique, I am just fascinated about the content that is being preserved and studied and the problem-solving skills that are involved in developing a viable workflow.
I've never been to a conference that had so many different session formats. The snapshots were nice to sit in on when my brain started to get tired and had trouble focusing for more than 7 minutes at time. As one who works the public services side of the library, I discovered that some of the working sessions were just too technical for me. But I enjoyed the breakout groups in some working sessions and workshops. It was a good exercise to work on ways to put theory into practice.
I have a much better sense of where the state-of-the-art in digital libraries is. But even more I have a better sense of what it takes to become a state-of-the-art digital library: the amount of time, money, staff, leadership, and creativity that is necessary to make a digital library successful. My institution still has a fair way to go, but I'm encouraged and not discouraged by what others have done.
I still need to work on my networking skills. I'm just starting to enter the world of digital libraries, and it is not the main focus of my job so it can be intimidating when it seems like everybody else already knows each other. But I need to be more proactive in starting conversations with people. However, I did manage to screw up enough courage to ask someone if they would be interested in collaborating on a panel in the future.
For me, attending the DLF Forum was a good introduction to digital libraries and all that entails from the technical side to the user experience and everything in between. I want to thank ARL and DLF for sponsoring me to attend. I still wouldn't call myself a digital librarian, but I definitely want to continue learning more about digital libraries.