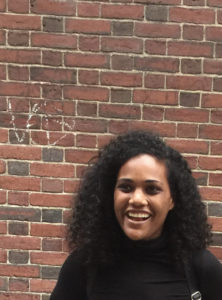 This post was written by Alanna Prince, who was selected to be one of this year's DLF Forum Community Journalists.
Alanna Prince is a PhD Candidate in the English Department at Northeastern University. Her research focuses on contemporary poetry, visual culture, postcolonial theory, and Black feminist theory— specifically looking into how poets are using archival documents to retell or reimagine history. She is also invested in the digital humanities, working with archives and other digital repositories to ensure that they are designed to be accessible to all people. She currently serves as the Exhibit Curator and Acquisitions Lead at the Early Caribbean Digital Archive, and as an Editor for Insurrect!, an online magazine for radical thinking in Early American studies.
---
Care Is: Labor, Ethics, and Joy at DLF 2021
In my studies and the broader parts of my life, I am always thinking about care– who I am caring for, who has cares for me, and who needs care. When I arrived at the CLIR/DLF 2021 Forum, I was amazed at all the ways care was front and center here as well. And, most importantly, how it was recognized as labor, as ethics, and as joy. Undoubtedly, this is thanks to the hardworking planners of the event, but also due to the ways the community showed up for one another, the subjects of their studies, and the patrons they served.
The plenary keynote "Keynote: 1619 to 2021: A Black Journalist Turns the Light of Truth on the History of American Race" from Nikole Hannah-Jones and Dr. Stacey Patton opened the forum and established labor as care-work. As they shared what goes into their work, notably Hannah-Jones's 1619 Project, they discussed the intense labor and challenge of their work and what drove them– a desire to care for their audiences, particularly the Black folks in the audience. It was a desire to give people access to historical narratives, to help them discover truths, and to validate and humanize them in some of the most tumultuous times in recent American history. It was not just the people of today that they labored for in their work. Dr. Patton, who is also trained as a historian, recalls a desire to also do this care-work for the people of the past, who have not yet been recognized. Noting their shared 'she-ro' Ida B. Wells, a renowned journalist and abolitionist, they discussed a desire to continue her legacy and assure that her work is recognized and accoladed.
Judging by the incredible work of the "Stories From the Inside: Documenting Incarcerated People's Experiences During the COVID-19 Pandemic" Wells's ethics are still practiced.  Elvia Arroyo-Ramirez, Joanne DeCaro, Gabe Rosales, and Keramet Reiter lead an important conversation about what it means to do ethical research, metadata writing, and documentation when working with incredibly vulnerable populations, like the more than two million people currently incarcerated in the United States. As a digital humanist, I have been a part of many conversations about metadata and privacy that seemed almost theoretical in their scope. But DeCaro and the rest of the team over at the UCI PrisonPandemic Project made it hyper-clear that this has material impacts on the lives of the people in prison of which they care so deeply. This took intense work– they spent countless hours finding ways to completely anonymize their collection to protect their subjects. Here, care comes in the form of strong ethical standards.
Although labor and ethics are an integral part of care, a part that often sits heavy on one's being, there were other moments when I was reminded that care can be given through laughter and camaraderie. I initially attended the "Disabled Library Social Hour" with the intention of learning more about what it meant to be a disabled person in a library space. And in many ways I learned a lot, but this very much was a social hour– pictures of pets, favorite pizza toppings, and places to vacation were among the very many things discussed in the lively room. Even in times when the conversation got tough, it was still a (virtual) room where the love and care was felt. Much of that was due to the work of Debbie Krahmer who worked hard to relay ideas in the chat, call people in and make space, and make the conversation as accessible as possible for everyone– Debbie's methods of care allowed so many people to feel included. Judging by the many warm exchanges in the chat, it was a joyous moment in such a harsh time. Debbie's care-work reminds me that there is still joy to be had– joy can be a reprieve that allows us to continue on.
Understanding care in these ways serves to me as an important reminder of how to carry myself in the world and care for others. It was a reminder that care is not always easy, and that it can be laborious. A reminder that care is not always soft and fuzzy, it takes a righteous sense of ethics. A reminder that care is not always monumental, it can be as simple as sending a joyful emoji in a chat. It is also a reminder that these forms of care are often inextricably linked—rarely do you find one without at least one of the other. I cherish these reminders and I will take it with me as I continue on.