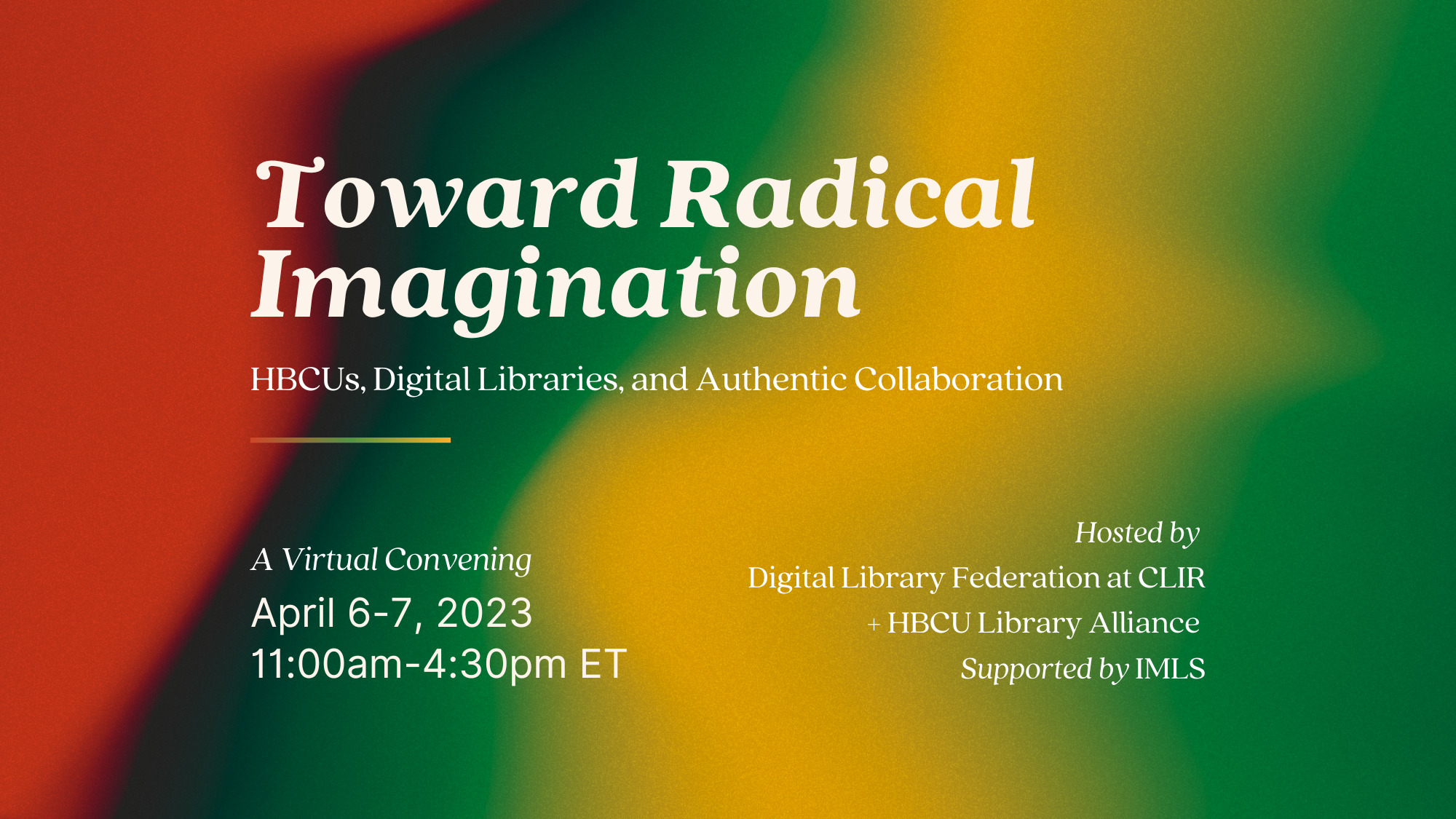 Toward Radical Imagination: HBCUs, Digital Libraries, and Authentic Collaboration
April 6-7, 2023, 11:00am-4:30pm ET
Register: https://authenticity.diglib.org/ 
Registration is now open for Toward Radical Imagination: HBCUs, Digital Libraries, and Authentic Collaboration, a two-day virtual event celebrating the conclusion of the Authenticity Project with panel discussions on creating access to Historically Black College and University (HBCU) library collections; digital pedagogy; grants and grant-funded projects; leadership and upward mobility at HBCUs; digital publishing; and art, archives, and exhibitions at HBCUs. Featured speakers include Loretta Parham, CEO and director of the Robert W. Woodruff Library at Atlanta University Center, and Lopez Matthews Jr., state archivist and public records administrator of the District of Columbia.
Please join us for this event as we seek to interrogate ways that digital libraries at all institutions might better use their collections to represent diverse communities and experiences, how technology may be furthering bias and performative diversity work, and what authentic partnerships between HBCUs and other organizations might look like. The goals of the event are to center HBCU library workers and alumni, explore opportunities and challenges at HBCUs, and celebrate the reciprocal mentorship relationships fostered by partnerships in the Authenticity Project. 
The event will take place virtually over two half-days, April 6-7, 2023, from 11 am to 4:30 pm ET, via Zoom Events. For the best experience, we recommend registering with a Zoom account.  The Authenticity Project, a mentorship program for HBCU library workers, is run by the Council on Library and Information Resources (CLIR)/Digital Library Federation (DLF) and the HBCU Library Alliance. It is supported by the Institute of Museum and Library Services (IMLS). Visit the event website for more information: https://authenticity.diglib.org/.