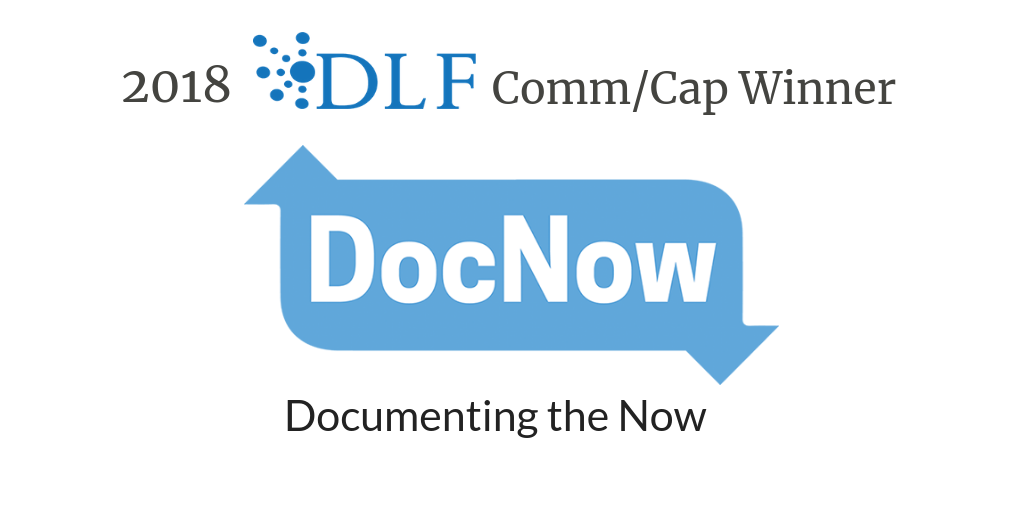 In May 2018, the DLF community nominated thirteen inspiring projects, teams, and people for our biggest honor, the DLF Community/Capacity Award—a biennial award that honors constructive, community-minded efforts to build collective capacity in digital libraries and allied fields. The award, which includes a $1,000 prize to the winner, promotes the work of those whose efforts contribute to our ability to collaborate across institutional lines and work toward something larger, together.
Each DLF member institution had one vote to cast, and at the 2018 DLF Forum in Las Vegas, Nevada, the winner was announced: Documenting the Now—a project which develops tools and builds community practices that support the ethical collection, use, and preservation of social media content.
Documenting the Now responds to the public's use of social media for chronicling historically significant events as well as demand from scholars, students, activists, and archivists, among others, seeking a user-friendly means of collecting and preserving this type of digital content. In the first phase of the project, the University of Maryland, University of California, Riverside, and Washington University in St. Louis collaborated to build a set of tools to help researchers work with Twitter data, which has helped draw together a community to raise the visibility of discussions related to the ethics of collecting digital content. The suite of tools will enable communities to research and preserve digital content in conscientious and thoughtful ways.
The $1,000 prize that accompanies the award will be donated to Josh Williams, a protester from the Ferguson uprisings of 2014 who was sentenced to 8 years in prison.
If you're interested in learning more and keeping up with the project, you can do so via DocNow's Medium and Twitter accounts or their Slack channel.
With thanks to the Documenting the Now team, and all thirteen nominees for their capacity-building work:
Amanda Meeks
Digital Library of the Caribbean
Digital POWRR
Documenting the Now
Dr. Melissa Nobles and Professor Margaret Burnham
Educopia Institute
Georgia HomePLACE
Katherine Boss
Kristi Park
Metropolitan New York Library Council (METRO) / Studio599
Santa Barbara Statement on Collections as Data
South Asian American Digital Archive
We Here
DLF will seek nominations for the next Comm/Cap Award in spring of 2020.