[Update 4/3/17: Mozilla Science Lab has joined our list of supporting organizations. Thanks, Mozilla!]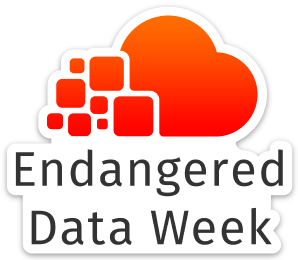 We invite your participation in Endangered Data Week, a distributed network of events running from April 17th-21st, 2017: 
Endangered Data Week is a new, annual, grassroots effort to:
raise awareness of threats to publicly available data of all kinds, across sectors and disciplines;

provide opportunities to explore the power dynamics of data creation, sharing, privacy, and retention;

build community capacity by teaching ways to make #EndangeredData more accessible and secure.
Nothing nearby? Please help make this first EDW a success by planning a gathering and adding it to our list and map! 
We especially encourage events that promote care for endangered collections by: 
publicizing the availability of datasets to diverse communities; 

increasing critical engagement with data, including through visualization, analysis, and storytelling; 

encouraging activism and advocacy for open data policies; 

fostering needed skills through workshops on data curation, documentation and discovery, improved access, and preservation.