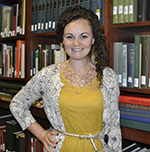 This video was contributed by Sara Cardello, Education Specialist at the Smithsonian Libraries.
Volunteer Advisory Group for Libraries by Teens (V.A.U.L.T.), the Smithsonian Libraries Teen Council, introduces "I See Wonder," a new school resource that is a wonderful way to spark inquiry, analysis, and discussion. By visually exploring our images, teachers and students can bring the Smithsonian Libraries digital collections into the classroom.
Through this introductory video we hope to increase awareness of our resources for a K-12 audience, as measured by number of users on the "I See Wonder" roster.