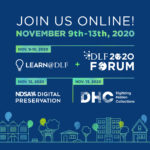 Though DLF is best known for our signature event, the annual DLF Forum, our working groups collaborate year round. Long before COVID-19 introduced the concept of "Zoom fatigue" into our lives, DLF's working groups organized across institutional and geographical boundaries, building community while apart, to get work done. Made possible through the support of our institutional members, working groups are the efforts of a committed community of practitioners, using DLF as a framework for action, engaged in problem-solving in a variety of digital library subfields from project management and assessment to labor and accessibility.
Once we decided that the 2020 DLF Forum and affiliated events would be held in a virtual format, it meant that our working groups wouldn't have the opportunity to meet in person for their typical working meals that take place throughout the Forum; however, this year's virtual format means that we'll have more new DLF Forum attendees than ever before. Because DLF's working groups are open to ALL, regardless of whether you're affiliated with a DLF member institution or not, we asked leaders of the DLF working groups to introduce their groups and the work they do to the new and returning members of the #DLFvillage in a series of blogs and videos.
We'll share these working group updates in the days leading to this year's DLF Forum. All of our 2020 events are free of charge. Register by November 1.
Join DLF's Project Managers Group during their Forum working session on November 17.
---
What is the Project Managers Group?
The DLF Project Managers Group (or DLF PMG) was formed in 2008 to acknowledge the intersection between project management and library technology. We provide a place to share project management methodologies and tools, alongside broader discussions that consider issues such as portfolio management and cross-organizational communication, and have branched into discussions of personnel management as well. We look to keep pace with the digital library landscape by bringing new and evolving project management practices to the attention and mutual benefit of our colleagues. This has been a big focus this year as many of us have made the transition to managing teams remotely.
You can find more information about our group on the DLF PMG Wiki.
This year the Project Managers Group decided to take on a new mentoring initiative as well as expand a webinar program series that we've offered on a limited basis to help connect and support project managers.
Mentoring:
In June 2020, the Project Managers Group launched its pilot of a project management mentoring program. This was in response to feedback the Steering Committee has heard at meetings and past Forums for several years. The committee wanted to provide an opportunity to connect with other project managers in our field to ask advice, share ideas, and learn from someone at a different organization. The goals of the program are to cultivate relationships and communication between project managers who have different experiences and areas of interest in digital libraries throughout the year. The committee envisioned this program as geared toward anyone in the field–new professionals or experienced project managers–who are looking to gain new perspectives. 
Our first cohort of mentors and mentees are currently in their third month of the program and by all accounts, everyone is finding this program insightful and worthwhile. We recently sent out our first quarter survey for participants and got positive feedback from everyone on the experience so far. Especially right now, as our professional lives are so upended, mentors and mentees are appreciative of someone to bounce ideas off and commiserate with – no matter their prior experience.
Based on the success of this pilot program, the Steering Committee will continue to offer this mentoring program and hope to call for a second cohort in Spring 2021.
Webinars:
The Project Managers Group provides webinars to keep pace with the dynamic digital library landscape, by bringing new and evolving project management, service design, user experience, and assessment practices to the DLF community. The webinars are recorded and uploaded to the DLF YouTube channel and then linked to the PMG Wiki so that they can be shared with a wider audience. This year, speakers presented on new technologies and practices in project management. 
Melissa Wisner, IT Project and Portfolio Management Librarian at North Carolina State University Libraries, spoke about Before Action Review, a method used by teams at the onset of a project to talk through anticipated changes, assumptions, and risks by drawing on the lessons learned from past experiences. 
Jenn Nolte, User Experience (UX) Librarian at Yale University Library, spoke about User Experience and Service Design. The talk focused on the importance of putting the end user's needs at the center when planning for new services or enhancing current services.
Casey Davis Kaufman, Associate Director of the GBH Media Library and Archives, spoke about leading teams and projects while working remotely during the ongoing global pandemic crisis. The presentation covered a range of topics relevant to the present remote-working environment–effective communication and support, managing expectations, measuring productivity and impact, providing resources, and 'holding space' for team members who may be experiencing incredibly challenging and emotionally difficult situations within and/or outside of work.
These virtual sessions provide an opportunity for Project Managers to learn and share new information with others in the field. We are always looking for feedback from our audience. If you have any suggestions for future webinars or if you would like to present at one of the sessions, please reach out to us via our listserv. 
Toolkit:
We've also continued to enhance our collective documentation and aides for all, including the DLF Project Managers Toolkit. The Toolkit is a collaborative project, based on contributions by members of the DLF Project Managers Group over the years. The Toolkit offers crowdsourced information, tips, techniques, and tools for project managers working in or with digital libraries. We include information on project management basics, documentation and templates shared by members, and evaluations of some of the popular project management tools. There are also links to additional resources including past discussions and presentations held by the Project Managers Group. Everyone can contribute to the Toolkit and we invite you to share your knowledge and practices. There are instructions on how to create an account and contribute to the Toolkit on the Wiki.
How to get involved:
The Project Managers Group listserv is open to all and is where we hold the majority of our chats. We have held scheduled discussions in the past, and we also encourage everyone to post questions or share their practice or resources. You can sign up for the listserv by going to the DLF PMG Wiki page and going to the "Get Involved" section.
We are looking into starting more informal monthly Q&A sessions and will be launching something during the conference, so stay tuned for more information.
You can also join the Project Managers Group Steering Committee by contacting the listserv and one of the committee members will reach out to you. The committee helps set the programming for each year and we welcome all skill levels and perspectives to help us build programs that work for our membership. As a group, we meet monthly and correspond a few times per month via email as we're working on initiatives. One to two people are assigned to work on each initiative (though not all members need to take on an initiative).
Thank you to all the Steering Committee members from 2019-2020: Robin Pike (Chair), Todd Digby, Cristela Garcia-Spitz, Allyssa Guzman, Jenifer Ishee, Anu Paul, Krystal Thomas, Becky Thoms, and Cynthia York!