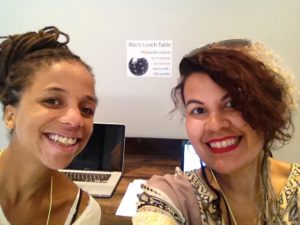 On this special edition of #DLFcontribute, we're working with the Wikimedia Foundation's #1lib1ref (1 librarian, 1 reference) campaign to highlight how librarians use Wikipedia to fill in public knowledge gaps about local and marginalized knowledge. Running from January 15 to February 3, the #1Lib1Ref campaign encourages librarians around the world to all add one citation to Wikipedia.
This post comes to us from The Black Lunch Table (BLT), an ongoing nomadic collaboration between artist and UNC Assistant Professor of Art Jina Valentine and New York-based public artist Heather Hart. The BLT has since taken the form of oral archiving sessions, salons, peer teaching workshops, meetups and Wikipedia edit-a-thons. Hart received her MFA from Rutgers University with studies at Princeton University, and Valentine received her MFA from Stanford University
1. The Black Lunch Table has been active for more than ten years. How has BLT morphed into its most recent iteration of Wikipedia edit-a-thons and what are the aims of these events?
Black Lunch Table (BLT) has always mobilized a democratic rewriting of contemporary art and cultural history by animating discourse around and among the people living it. Our aim is to fill gaps in our historical records and to unpack, expose, and shift the power behind authorship. Our roundtable discussions and their documentation on our online audio archive (currently under construction) will always remain the heart of our project, but Wikipedia fits perfectly into our scope. Our first attempt at Wikipedia group editing was at our event in Chicago at the Black Artists Retreat in 2014. We had one computer and no trainers. We had no idea there was an actual system to do these things and had no idea there was so much help available to anyone wanting to organize edit-a-thons. So, when we found Alice Backer to speak at our next event at Studio Museum in Harlem and WikiNYC joined us, our plans became much clearer. Our project has grown so quickly and profoundly since then.
While Wikipedia is an open source social network, wherein anyone has an equal voice in writing and editing historical records, currently 85% of Wikipedia editors are male and 77% are white. We seek to shift this demographic by hosting events focused on improving or creating pages for black visual artists. We are actively cultivating a more diverse editorship, in addition to encouraging editors in the majority demographic to focus on this often marginalized or omitted subject matter. Therefore, although our task lists are always site-specific visual artists of the African Diaspora, we encourage everyone who attends to do the work they think needs help.
Through our edit-a-thons we also intend to challenge Wikipedia's antiquated citation and notability standards. Many significant black artists are omitted from dominant art historical narratives and receive insufficient attention from the cultural medias, making it difficult or impossible to prove they're significant enough for inclusion on Wikipedia. Such restrictive policies such as "notability standards" fail to take into account systemic bias in art criticism and art historical writing: Wikipedia risks mimicking the same system it was built to disrupt. Our long-term goal to challenge this is to establish our archive as a reputable source that may be used for citations.
2. Your edit-a-thons are held at libraries, rec centers, living rooms, museums, and many other kinds of community spaces. Some edit-a-thons have been held in conjunction with events like unconferences and fairs. How do these partnerships emerge? (And how might folks from the DLF community get involved?)
Both of us come from the art world with our own relationships and seasoning. It is important to the project to remain nomadic and site-specific. We are both "crazy artists," so maybe it's in our nature to find boundaries to push a bit. And beginning from outside the traditional hackathon or library systems might just naturally mix things up a bit. We always propose the inclusion of BLT edit-a-thons when we book an exhibition or invitation for our own work. So we have found ourselves exploring site and context a lot—this has encouraged us to pair civic sites with academic or institutional engagements, so we might diversify the demographic. That leads us to research, relationship-building, and some cold-calling to find potential hosts. We would LOVE to collaborate with the DLF community, message us! And if that's not possible, we encourage all of the DLF community to reach out to an unexpected collaborative partner or two.
3. What are the most interesting things that you're currently preoccupied with from holding these edit-a-thons, or, alternatively, what are you currently geeking out on, as a result?
Oh, man, the fractals of information on Wikipedia! So many people are missing from it! When you begin a new article, you find someone or something that was crucial in the article's story and in history, who also doesn't have a page. Heather has a small list in her phone of all the pages she wants to personally begin: Alex Harsley, Dr. Charles Smith, Brian Keith Jackson, Cacy Forgenie, Vandorn Hinnant, Tionna McFadden, Kori Newkirk, Pat Mautloa, and Sam Buti!
But I think our current collective geeking in the Wiki world might be the notability guidelines we mentioned earlier. Changing the structure of the institution to counter bias (in media, historical authorship…) is a critical part of BLT's overall project.