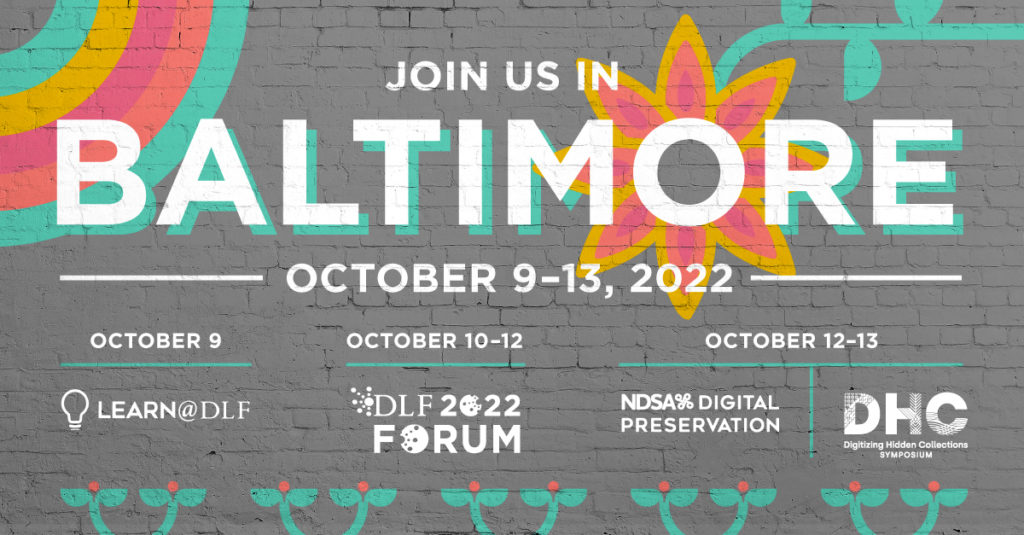 The Council on Library and Information Resources is delighted to announce that we have opened registration for our in-person conferences happening in Baltimore, Maryland this October: the Digital Library Federation's (DLF) Forum and Learn@DLF, NDSA's Digital Preservation 2022: Preserving Legacy, and CLIR's Digitizing Hidden Collections Symposium.
Our events will take place on the following dates:

We're also very excited to announce the keynote speakers for all of our events:
David Nemer and Meredith Broussard will be in conversation, moderated by Sara Mannheimer

Dorothy Berry will keynote DigiPres with "Keeping Whose History, For Whom: Writing the Stories Digital Preservation Tells"

Michelle Caswell will keynote the Digitizing Hidden Collection Symposium with "'So that Future Organizers Won't Have to Reinvent the Wheel': Activating Digital Archives for Liberatory Uses"

Secure the early bird rate, register for Learn@DLF workshops, book your hotel, browse our new community-written Baltimore local guide, and start planning for yet another memorable week with CLIR. 
Learn more about our events and keynotes on the DLF Forum Blog.
If you have any questions, please write to us at forum@diglib.org. If you'd like to know more about our Covid-19 Health Protocols, click here. We're looking forward to seeing you in Baltimore this fall.
-Team DLF
P.S. Want to stay updated on all things #DLFforum? Subscribe to our Forum newsletter and follow us at @CLIRDLF on Twitter.