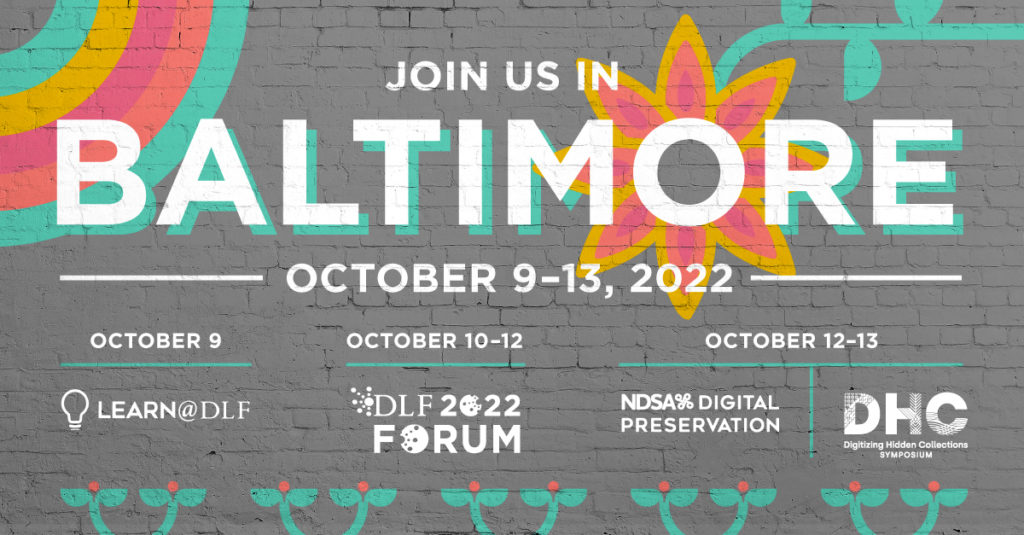 The Council on Library and Information Resources is delighted to announce the release of the full programs for our in-person conferences happening in Baltimore, MD this October: the Digital Library Federation's (DLF) Forum and Learn@DLF, NDSA's Digital Preservation 2022: Preserving Legacy, and CLIR's Digitizing Hidden Collections Symposium. This year's programs are remarkable, and you won't want to miss them.
Our events will take place on the following dates:
We are especially grateful to our volunteer Reviewers and Program Committees, without whom these fabulous programs would not have come together. And, thank you to all who submitted proposals. This year's field was competitive, and it shows in the strong programs we're sharing today.
Secure the early bird rate, register for our events, book your hotel, browse our new community-written Baltimore local guide, and start planning for yet another memorable week with CLIR. 
DLF member organizations receive one complimentary DLF Forum registration as part of their member benefits. Not sure who received your code? Contact us at forum@diglib.org. 
We will continue updating the Covid-19 Health Protocols information on our website. If you have any questions, please write to us at forum@diglib.org. We're looking forward to seeing you in Baltimore this fall.
-Team DLF
P.S. Want to stay updated on all things #DLFforum? Subscribe to our Forum newsletter and follow us at @CLIRDLF on Twitter.