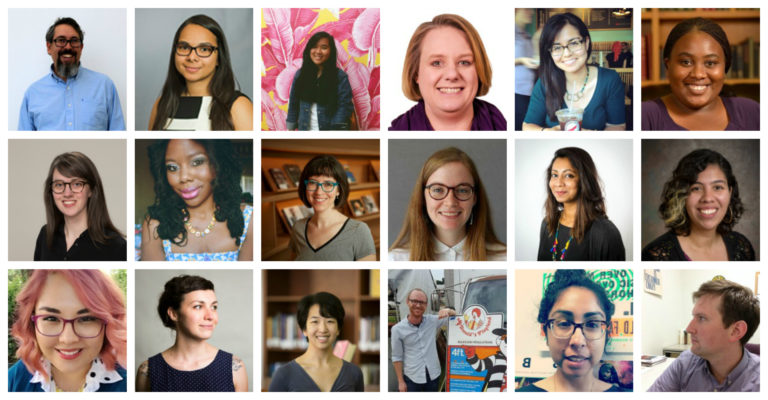 Each year, CLIR/DLF makes a number of travel and registration grants available to DLF members and to the broader community invested in digital library work in order to bring a diversity of insights and perspectives to the DLF Forum.
Among our goals is to create "cross-pollinators"—professionals who move freely among our (sometimes walled) gardens. In an increasingly networked world, DLF means to increase communication between all groups interested in the future of information, including museums, libraries, colleges and universities, and anyone working in digital collections and services.
For information about this year's opportunities, head to the 2021 DLF Forum website.
Student and New Professional Fellowships
International Fellowships
GLAM Cross-Pollinator Registration Awards
ARL + DLF Forum Fellowships
Student and New Professional Fellowships
Civic Switchboard Cross-Pollinators
ARL + DLF Forum Fellowships
Student and New Professional Fellowships
Library Juice + DLF Forum Fellowship
ER&L Cross-Pollinator Fellowship
Kress + DLF Forum Fellowships
ARL + DLF Forum Fellowships
Student and New Professional Fellowships
Library Juice + DLF Forum Fellowship
Kress + DLF Cross-Pollinator Fellowships
Force11 + DLF Cross-Pollinator Fellowship
AMIA + DLF Virtual Cross-Pollinators
ARL/DLF Forum Fellowships for Underrepresented Groups
DLF + ER&L Cross-Pollinator Travel Award Fellowships
DLF Forum Museum Cross-Pollinators
Student and New Professional Fellowships
VRA + DLF Cross-Pollinator Travel Grant Fellowship
ARL/DLF Forum Fellowships for Underrepresented Groups
DLF Forum Fellowships for New Professionals
DLF Forum Cross-Pollinator Fellowships for Museum Practitioners
ARL/DLF Forum Fellowships for Underrepresented Groups
DLF Forum Fellowships for New Professionals
ER&L + DLF Cross-Pollinator Travel Awards