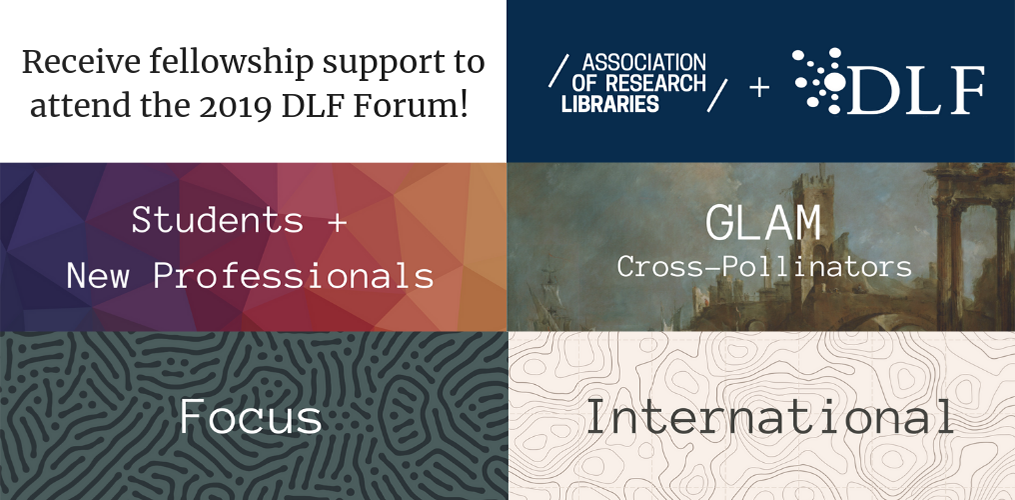 Get funded to make connections and bring DLF community smarts to related conferences.
The deadline to apply for 2019 DLF Forum Fellowships has passed. The DLF Forum Scholarship Committee is in the review process and will be notifying applicants of decisions by the end of July. Visit the 2019 Forum website for more information about our offerings this year, and bookmark this page for information about next year's fellowships, coming in early 2020.
Past opportunities:

DLF Students and New Professionals Forum Fellows
:
The DLF warmly welcomes newcomers to the profession and new voices to our community. To that end, we fund DLF Forum Fellowships for Students and New Professionals. Early-career library employees and graduate and undergraduate student assistants who make a significant contribution to a digital library endeavor are eligible.

Learn more about the 2018, 2017, 2016, 2015, 2014, and 2013 awardees.

DLF HBCU Forum Fellows
:
The DLF HBCU fellowships originated in 2017 part of a collaboration between the HBCU Library Alliance and the Digital Library Federation's liberal arts college community. These awards are primarily designed to bring practitioners from Historically Black Colleges and Universities to the DLF Forum.
Meet the 2018 and 2017 awardees!

DLF GLAM Forum Fellows
:
These travel awards, founded with support from the Kress Foundation, foster collaboration among the museum and digital library communities. Members in good standing of AIC (the American Institute for Conservation), ARLIS/NA (Art Libraries Society of North America), MCN (Museum Computer Network), and VRA (Visual Resources Association) may apply to receive a complimentary Forum registration.
From a DLF member institution? Learn how you can receive a registration award at a partner conference.
Meet the 2018, 2017 and 2016 recipients.

ARL + DLF Forum Fellows
:
The DLF Forum typically achieves good gender balance, both for speakers and attendees—but our project to increase participant diversity and create an ever more inclusive community is an ongoing one. To this end, DLF began partnering with the Association of Research Libraries (ARL) in 2013 to welcome "Forum Fellows from Underrepresented Groups," now known as the ARL+DLF Forum Fellowships.
Meet the 2018, 2017, 2016, 2015, 2014, and 2013 awardees.

Focus Forum Fellows:
If you're looking to focus (or re-focus!) your efforts on a particular project, subject, or goal, attending the Forum is a great way to expand your knowledge and make connections. These DLF-funded awards support established professionals in their pursuit of career growth and development.
Meet the 2018 awardees.

Library Juice + DLF Forum Fellows:
Sponsored by Library Juice Academy and Library Juice Press, this award has supported travel and registration for one mid-career professional in digital libraries and related fields. Meet the 2017 and 2016 recipients!
FORCE11+DLF Forum Fellows:
Meet the
2016
recipient!
AMIA + DLF Forum Fellows:
Meet the 2016 virtual cross-pollinators!