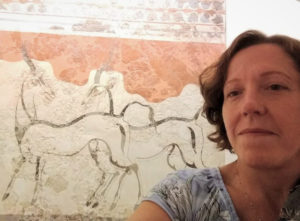 DLF is excited to announce that we're sending community member Dr. Joan E. Beaudoin to the Museum Computer Network Annual Conference in San Diego, CA this November with support from our GLAM Cross-Pollinator Registration Awards. The conference brings together over 600 cultural heritage professionals from museums, historic sites and visitor attractions in North America and globally.
About the Awardee
Dr. Joan E. Beaudoin (@joanebeaudoin) is an Associate Professor in the School of Information Sciences at Wayne State University in Detroit, Michigan. She teaches and performs research on metadata, information organization, digital libraries, digital preservation, museum informatics, and the access to and use of visual information. Prior to her appointment at Wayne State University she performed archaeological fieldwork, taught art history, and had a lengthy career in academic visual resources collections. Her research has been published in a number of scholarly journals, including the Journal of the Association for Information Science and Technology, Journal of Documentation, Journal of Academic Librarianship, Knowledge Organization, and Art Documentation, and she has presented her research at regional, national and international conferences.
The Cross-Pollinator Awards & Upcoming Opportunities
Since 2015 (and initially with support from the Kress Foundation), the GLAM Cross-Pollinator Registration Awards have aimed to foster communication and conversation among the GLAM communities.  Each year, a member from each of our partner organizations receives free registration to attend the DLF Forum and, in exchange, a DLF member affiliate attends each partner conference. Learn more about those who attended the 2019 DLF Forum in Tampa, Florida and keep an eye out for their fellow reflections on the DLF blog in the coming weeks.
DLF would like to thank our partners at the Museum Computer Network, the Visual Resources Association, the Art Libraries Society of North America, and the American Institute for Conservation for participating in this program.
Students, faculty, and staff from DLF member institutions are eligible to apply for upcoming opportunities! Registration awards are still available for the upcoming annual meetings of VRA, ARLIS/NA, and AIC in 2019. Apply now!
Upcoming GLAM Cross-Pollinator Registration Award deadlines:
Visual Resources Association (Registration Award): 13 December 2019
Art Libraries Society of North America (Registration Award): 14 February 2020
American Institute for Conservation (Registration Award): 13 March 2020