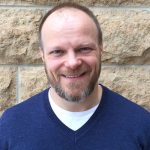 This Member Update was provided by Johan Oberg, Digital Scholarship and Services Librarian at Macalester College.
Macalester College is a small, liberal arts undergraduate institution located in Saint Paul, Minnesota. We have a student population of approximately 2000. The Library provides support for a variety of digital initiatives and works closely with our instructional technologists for supporting faculty interests in digital scholarship. Johan Oberg, Digital Scholarship and Services Librarian at Macalester, attended the last DLF Forum and upon his return, expressed his enthusiasm for the conference and connecting with a cohort who shared our interest in digital scholarship at liberal arts colleges.
In April 2015, Macalester College will be celebrating the 10th anniversary of the start of our work exploring digital scholarship and building digital collections. Our vision has been one in which the library is an active partner in supporting the digital needs of faculty and students, and provides leadership in new models of publishing.
We believe in providing open access to our scholarly and creative works, and in 2005 we implemented Berkeley Electronic Press's Digital Commons and began the process of sharing a selected number of student honors projects with the world. Now, each year all student honors projects are included in the Digital Commons and last year we celebrated over 1 million downloads from our repository. What started as a small focused project has grown to include articles, papers, journals, oral histories, and last year a multimedia monograph. It was our project producing our multimedia book publication, Captive Audiences/Captive Performers: Music and Theatre as Strategies for Survival on the Thailand-Burma Railway 1942-1945 that led us to determining that joining the DLF should be a priority.
In addition to open access publishing and repository services, our digital services unit also supports and collaborates with faculty and students, and campus offices such as our Communication and Public Relations department, with digital collection-building services using systems such as CONTENTdm and Omeka. At the same time as we work with robust tools, we explore and identify digital options that may suit a particular scholarship project; we also help faculty and students consider whether there are copyright issues involved, and whether there any long-term and preservation implications that should be taken into account.
As we have explored for the past 10 years what digital scholarship might mean for a small liberal arts college library, we have learned that it is a constantly changing area and it is critical to continually stay informed. Every year, technology has changed. Every year, faculty interests and expectations have changed, and every year our own knowledge and abilities have changed, by continuing to talk to colleagues, by attending conferences or unconferences, or by holding conferences of our own together with other institutions. With this in mind, we are very excited to have the opportunity to join DLF and continue to learn and help stretch the imagination of what digital scholarship might mean for a small liberal arts college library.