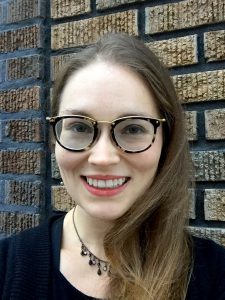 This week, Carissa Pfeiffer is heading to the Museum Computer Network meeting in Pittsburgh, PA with support from a Kress+DLF Cross-Pollinator Fellowship.
More about her:
Carissa is a current graduate student working towards her MSLIS from Pratt Institute, with special interest in furthering academic and public scholarship in archives, museums, and special collections libraries, and in leveraging digital tools to promote use of physical, digital, and hybrid materials. Her time outside of school is currently spent supporting the archives of the New York Transit Museum and assisting with web archiving efforts at the Frick Collection as part of the New York Art Resources Consortium.
Look out for her reflection about attending MCN later this month! Carissa will be featured on the blog alongside the four fellows who represented our partner organizations at the DLF Forum in October.
If you're affiliated with a DLF member institution, you're eligible to apply for upcoming Kress+DLF fellowships, which aim to foster communication and conversation among the GLAM communities. Opportunities are still available for travel grants to attend ARLIS/NA, AIC, and VRA.