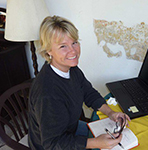 This post was contributed by Carla Fotherby, Collections Specialist, Digital Scholarship Services, University of South Florida Libraries; and Lori Collins (left), co-Director of the USF Libraries Digital Heritage and Humanities Collections and the Digital Media Commons, University of South Florida Libraries.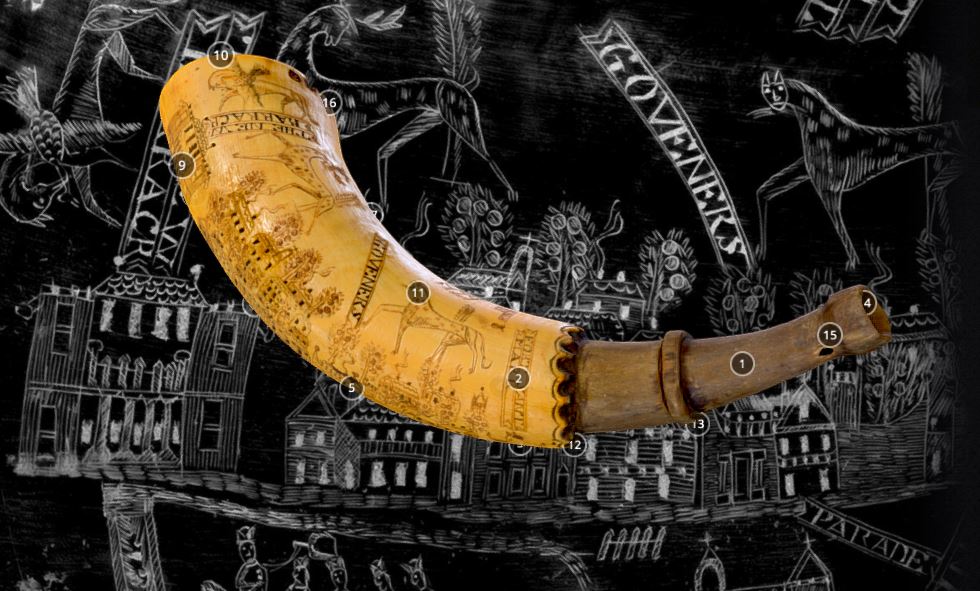 The object shown above, Engraved Powder Horn with Map, from the Tampa Bay History Center's Touchton Map Collection, is just one of many 3D models that can be found in the Digital Heritage & Humanities Collections section of the University of South Florida (USF) Libraries Digital Collections. This item is part of a new artifact and virtual exhibit design being developed by the Tampa Bay History Center and the USF Libraries' Digital Heritage and Humanities Collections department (DHHC). The DHHC initiative documents heritage sites, landscapes, and objects, and creates digital learning tools and collections that promote sustainable heritage tourism and interpretation strategies through the use of 3D and imaging technologies.
Soldiers and pioneering frontiersmen often engraved the powder horns with illustrations of daily life or a depiction of their surroundings. This horn shows Saint Augustine after British control in 1763-83 (we know this because the name of the Castillo was changed to Fort Saint Mark during the British period–and is seen engraved on this horn). The horn has been digitally unrolled by USF Library's 3D specialists who used the collected 3D data with an applied computer algorithm, to allow full viewing of the carved inscriptions and the complete study and viewing of this early cartography of Florida's oldest city.
Our 3D experts with the DHHC, led by Drs. Lori Collins and Travis Doering, have documented this piece using a structured light scanner and imaging software and modeling tools. The piece can be manipulated through the computer 3D viewer, or interacted with using virtual and augmented reality-developed applications. These digital models allow for the expert's knowledge to be made more meaningful to the layman and researcher alike. As the world becomes smaller and more digital, the innovative work of the DHHC enables people to visit locations or manipulate objects in a virtual, 3D setting—adding a new dimension to the educational experience.