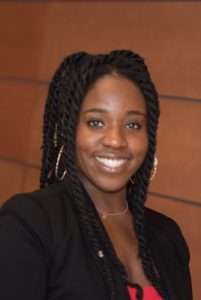 This post was written by Kerri Lee Alexander, who received a Student and New Professional Fellowship to attend this year's DLF Forum.
Kerri is the Education and Public History Fellow at the National Women's History Museum. As a Fellow, she conducts research and develops content for the Museum's online platform. In addition to creating biographies, exhibits, and articles, Kerri assists in the creation of public programming focused on the contributions of women. This February, she had the privilege of curating a digital exhibit on Sojourner Truth that was featured on the homepage of Google.com to kick off Black History Month. Through Google's platform, her exhibit was able to reach over 343,000 people within the first day. Currently, she is also a Ph.D. student in the History Department at Howard University, where she serves as a Teaching Assistant and the inaugural Graduate Student Mentor for the Mellon Mays Undergraduate Fellowship, in partnership with The Andrew W. Mellon Foundation. She has several years of experience in nonprofit management, community organizing, and women's history and cultural praxis. Kerri holds a Bachelor of Science in Arts Administration (Nonprofit Management) from Wagner College, and subsequently earned the Master of Arts in Theological Studies with Certificates in Black Church Studies and Theology, Women and Gender from Princeton Theological Seminary.  
---
As a litany of wildfires rage through California this week alone, communities of survivors continue to mourn. Born and raised on the East Coast, I rarely encounter the personal stories and experiences of this population. However, this all changed once I attended my first Digital Library Federation Annual Forum. Eager to attend a session that seemed connected to my research as a Ph.D. student, I hurried to the session entitled Ethics and Community Archives. When I arrived, I was surprised to see a full room almost menacingly silent, quietly awaiting the gravity of this moment.
Lisa Lamont presented first with her work entitled "Documenting Detention: The Complexities of Digitizing the Living Archive of a Vulnerable Community." This topic originated from a project called The Detainee Allies Letter Collection, that collects letters from migrants held at the Otay Mesa Detention Center on the US-Mexico border. Lamont detailed the complex ethical issues that archivists encountered when handling such sensitive information. Equally as engaging, Jessica Holland's "Collaborating to identify and dismantle structural inequalities within the digital humanities field," charted the emerging digital humanities field in the Arab region. Established by The American Center of Oriental Research (ACOR) in Amman, Jordan, this interdisciplinary project emphasizes archeological work while boasting a culturally rich photo archive.
The aforementioned panels were riveting and powerful, provoking both questions and concerns when it comes to documenting vulnerable populations. However, the last presentation by Josias Bartram particularly caught my attention. Speaking from first-hand experience, Bartram's talk entitled "The Woolsey Fire Memory Project: Community Archives as a Response to Collective Trauma," detailed the tragic events that necessitated a community healing space. Reeling from the Borderline mass shooting that involved one of their classmates, the students at Pepperdine University were already collectively grieving. Little did they know, the evening they learned of their colleague's passing, news broke about another devastating event.
"In enduring more tribulation than anyone should have had to bear, they have shown more love than anyone could have asked for."
—President Andrew K. Benton, Pepperdine University
The Woolsey Fire started on November 8, 2018 and reached the Pepperdine University campus within a day. Nearly two weeks later, the fire was contained, but not before killing three people, burning 96,949 acres of land, and forcefully evacuating nearly 300,000 people from their homes. In a heart-wrenching video shown by Bartram, a young woman driving in her car is surrounded by fire, unable to find a path to safety. "God, please don't let me die today," she desperately cries, as each abandoned street she encounters erupts in flames. Without showing us the resolution of the video, Bartram underscores the trauma many students and community members experienced. Stemming from the fact that the Pepperdine University Library was a place of refuge for the students during the fire, it seemed fitting to harness that space as a conduit for healing. The Pepperdine Libraries created a community archive project as a response called the Malibu Community Woolsey Fire Memory Project, that to date has collected nearly 400 stories, photos, items, and memories about this event. In addition, this engaging digital archive has a Malibu Natural Disasters Collection that includes images and records dating back to the Malibu fire of 1985.
Particularly of note with this project, is the delicate balance between community agency and institutional power. During the fire, many of the students at Pepperdine chose to "shelter in place," as three structures on campus were built to withstand fire damage. That said, by using resources to protect the students in their cocoon, some felt that it drew resources away from the surrounding communities. The ensuing dialogue between community and institution reiterates the dire need for reform within spaces of higher education. By responsibly utilizing institutional funding, networks, and other resources, these spaces can facilitate healthy and meaningful relationships with their surrounding communities. However, from Bartram's presentation, it seemed as though this project was a much-needed conversation starter, and the beginnings of a collaborative safe-space between community and institution.