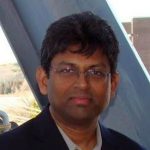 This member update provided by Shafeek Fazal, Associate Director for Library Technology, Discovery and Digital Services at the University Libraries, Stony Brook University, State University of New York.
One of the new directions for Stony Brook University (SBU) Libraries is to venture deeper into the digital library arena. Clearly there is a shift in scholarly communication toward open access and SBU Library is becoming an active player. Already a member of ArXiv and the Coalition for Networked Information, and in the process of finalizing membership with HathiTrust, we are now delighted to be affiliated with the Digital Library Federation. We look forward to conversations and sharing ideas with other members of this rich community of libraries that are advancing digital scholarship.
Stony Brook University, founded in 1957, is one of the State University of New York's four University Centers. Its main campus is located on the north shore of Long Island with satellite locations in the Long Island vicinity and in Manhattan. Enrollment exceeds 24,000 students. SBU Libraries is the largest academic library on Long Island, serving the university, local community, and as a resource state-wide and nationally. Its collection exceeds 2 million volumes and includes an array of digital, print, and audio visual resources, and world-renowned special collections. SBU libraries, with six distinct physical libraries, is a member of the Association of Research Libraries and Association of Academic Health Sciences Libraries.
With Open Education Week just over and looking forward to Open Access Week later this year, SBU Library is gearing up its activities in the open access arena. The future of scholarly communication lies in promoting and practicing open access initiatives, and SBU Library is preparing to take on this role. Promoting the concept of open access has already begun and the library dean is at the helm of the ship. Our first priority is to develop an open access policy that is widely accepted across the university, and the wheels are already in motion with hosting various awareness meetings and garnering support from upper administration and faculty senate groups. Meanwhile, we are building our Center for Scholarly Communication where the core of activities will initiate. With state of the art equipment and inviting furniture, the center will host many workshops and events to bring about awareness and educate faculty in the area of digital scholarship. A Scholarly Communication Librarian is already on board and is actively promoting and developing the center and its activities.
Data curation is a priority at research-intensive universities, like Stony Brook University, and libraries need to be among the stakeholders. SBU Library is getting very involved in the conversations and actions on university-wide research data management. Meetings and discussions have been ongoing with the Office of Research, our health sciences librarians are much more embedded with the VIVO project for research discovery, and another project is underway to archive a large data set in astronomy and design an intuitive interface to access and analyze such data. Recognizing the need for a robust institutional repository (IR), work is underway to brand Stony Brook's IR and implement the technology for a stable platform that consolidates digital content across multiple platforms on DSpace and ContentDM. Beyond technology, we know that there are intangible aspects to establishing an effective IR, so a team of librarians are working on outreach efforts, developing policies, and acquiring and encouraging digital collection development.
Digitization activities have been a constant at SBU Library, but on a project by project basis. Our current repository consists of an array of digital collections hosted locally on DSpace and ContentDM platforms. The core collection focuses on the institution's documents, including yearbooks, student newspapers, university journals, theses and dissertations, and administrative and governance documents. A highlighted digital collection is the Archive of Mesopotamian Archaeological Reports, comprising digitized archaeological site reports on excavations in Iraq and the immediate surrounding areas in Turkey, Syria, Iran, and the Gulf. Given our location, another collection priority is Long Island history. Our digital Long Island Collection is highlighted by letters and documents from prominent figures such as George Washington, Nathaniel Woodhull, and George Clinton; a postcard collection dating back to the 19th century; a government documents collection for Long Island regional research; and the Long Island Historical Journal publication. In the academic arena, SBU Libraries have taken on digital projects for the School of Journalism and in the digital humanities. Additionally, SBU Library has launched a digital exhibits initiative where special collections and physical exhibits will be highlighted in the digital environment to reach a wider audience, spawning more intellectual creativity. The new digital exhibits implementation, based on Omeka web publishing platform, will soon launch its first exhibit on "Dental Instruments – Past and Present" showcasing 19th and early 20th century instruments used in dentistry.
We are thrilled to be in the 2014-15 class of DLF's new members and look forward to working with our peers to collectively build and promote digital scholarship to everyone. The upcoming DLF Forum will be a great venue to meet, greet, and collaborate with our colleagues.