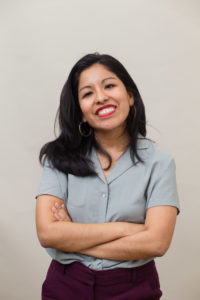 This post was written by Yvette Ramírez an ARL + DLF Fellowship to attend this year's Forum.
Yvette is an arts administrator, oral-historian, and a MSI candidate in Digital Archives and Library Science/Preservation at the School of Information at The University of Michigan. She is inspired by the power of community-centered archives to further explore the complexities of information access and memory within Latinx and Andean diasporic communities in the United States. Most recently she was a 2019 Studio Intern at the Metropolitan New York Library Council (METRO), where she initiated the sourcing and digitization process for The Bolivian Diaspora Archive Project in an effort to expand access to collections and broaden engagement with cultural heritage materials and data with Bolivian & overall Latinx communities. With nearly a decade of experience as a cultural producer, Yvette has worked alongside community-based and cultural organizations such as The Laundromat Project, Make The Road New York, New Immigrant Community Empowerment, The Noguchi Museum, and PEN America. In her spare time, Yvette is a co-founder and steward of Archivistas en Espanglish.
---
As a first year archives graduate student, the opportunity to attend this year's DLF Forum as a ARL+ DLF fellow recipient truly was an affirming experience given that for the next four days I would be surrounded by library and archives practitioners who were also thinking critically of the state and responsibility of this field. Throughout numerous sessions, retweeted tweets and offline conversations had, what I walk away with is a network of like-minded peers and mentors who through their work and own lived experiences are pushing the boundaries of a field that while innovative is also facing the repercussions of structural oppressive systems such as digital surveillance, misinformation and erasure. As an Andina-identifying woman from New York City, raised by a working-class immigrant family, I entered this work with the aim of building towards more full and authentic diasporic identities within the US Latinx framework. During this year's Forum, as I shared for the first time amongst my new colleagues some of my work and findings as an oral historian; I asked, "How might traditional (ie. colonial, euro-centric) oral history + archival frameworks, such as documenting for purely evidence's sake, undermine liberatory processes?" While nerve-wracking and a learning experience on why you should keep your slides to a brief minimum, it was so affirming to receive encouragement from fellow attendees, to see sparks of conversation incite as a result of my and my fellow session panelists' presentations (shared notes here). A reminder that this work is important.
Entering this field, I was fully aware that recording the past is ultimately not a neutral one. Institutional, cultural, and collective memories are dictated by hierarchical systems of power, and ultimately those who benefit from it. Whether conscious or not, these systems of knowledge replicate the biases of those involved who determine what is of value and what is not. Those bits & pieces of information are immensely influential as the greater public consumes them as representations of history that ultimately form our respective identities. I didn't learn much about my own culture in school, nor did I see much Andean indigenous representation in the already limited Latinx media. As a result, I find myself, as an adult, continuing to piece together an authentic relationship with the country my parents once called home. Ultimately my relationship with Bolivia is informed by how I navigate the world, which in turn is affected by a particular history and the systems put in place by that history. Like many others who live nuanced lives affected by migration and the legacies of colonialism, this reconciliation of sorts with one's roots and ultimately oneself is an ever ongoing process. This is why I find archives and other spaces of information so crucial as they provide alternative spaces to collectively build an inventory of shared cultural markers, practices and on-going intersecting identities. To achieve or at least get close to this, archivists, digital curators and librarians must be open to critiquing and reassessing the practices and standards in our field as well as the external forces that dictate them. As Chela Scott-Weber said so eloquently during her presentation at "The Story Disrupted: Memory Institutions and Born Digital Collecting" session (shared notes here).
"We are collecting reactively…we need to change our collecting policies for selection and appraisal; we need to be more intentional and holistic to include the voices of all communities". These words ring so true to me as they relate to my own experience as someone who has constantly contended with erasure and now as an archives professional learning the flawed foundations of our work. Institutional biases feed not only to our day to day work but in history making.